US announces more than 500 scholarships for flood-affected students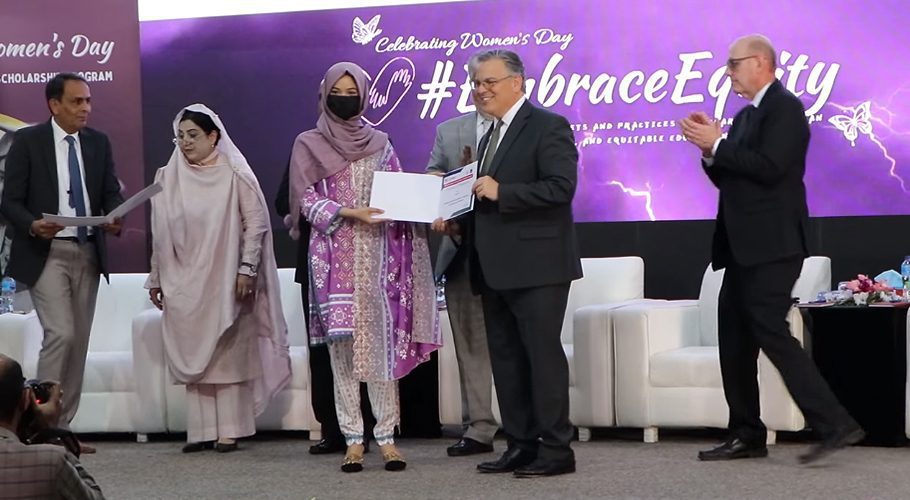 ISLAMABAD:  The US Ambassador to Pakistan Donald Blome has announced more than 500 new scholarships for Pakistani university students from flood-affected districts to assist them in completing their degrees. These scholarships will cover one academic year (three semesters) for these students at 30 Pakistani universities.
Also read: Fawad Chaudhry holds meeting with US envoy Donald Blome
The scholarships were announced by US Envoy at an event, held the other day to celebrate International Women's Day at the Higher Education Commission (HEC) in Islamabad.
The event was attended by Federal Minister Mr. Ahsan Iqbal, Chairman HEC Dr. Mukhtar Ahmed, US Ambassador to Pakistan Donald Blome, Chairman National Disaster Management Authority (NDMA), Lt. Gen. Inam Haider Malik, Executive Director HEC, Dr. Shaista Sohail, Mission Director, and Education Director USAID, Vice Chancellors and Students/MNBSP alumni from various universities.
On the occasion, Mr. Ahsan Iqbal complimented USAID and HEC for a strategic partnership in higher education in Pakistan. He stressed that only quality education and skills can drive the country toward progress. Pakistan is blessed with two third young population and economic development is possible only when provided with the right ideas, technology, and relevant skillsets.
Chairman HEC, Dr. Mukhtar Ahmed emphasized that our female population is very dynamic and needs collective action to promote women's empowerment and gender equality in all aspects of society. He also appreciated the collective efforts of universities and NDMA in outreaching flood-affected people of Pakistan.
Also read: 'US has provided $60mn aid for Afghan refugees in 2022': Donald Blome
US Ambassador, Donald Blome, said that the US with the help of the Pakistani government supports women to thrive and contribute in the socio economic development of Pakistan. International women's day is the call to accelerate the efforts to dismantle gender stereotypes.
He apprised the audience that since 2004, USAID has awarded more than 6000 scholarships to high-achieving and financially needy students, and, since 2014 60 percent of those scholarships have been awarded to women. Educational opportunities can unlock their potential and empower them and contribute to the economy, promote socio-political stability.
In her opening remarks, Dr. Shaista Sohail said that since its inception, HEC is committed to the women's empowerment and the provision of equal opportunities to women in higher education, as educated women guarantee a prosperous nation. It is encouraging that USAID has reserved half of the scholarships for women. With the help of USAID, university education for thousands of underprivileged students has become a reality.
Also read: Ishaq Dar meets US Ambassador Blome, discusses flood losses
During the event, a documentary video of a female scholarship recipient was played and Jennifer Andleeb, another female scholarship recipient also remarked on her life-changing journey through scholarship. HEC and USAID announced the scholarship program for female students, which will provide financial assistance to deserving female students who wish to pursue higher education in various fields. Ambassador presented certificates to three female scholarship recipients.