Turkey, Pakistan, Afghanistan urge Taliban to remain engaged in peace process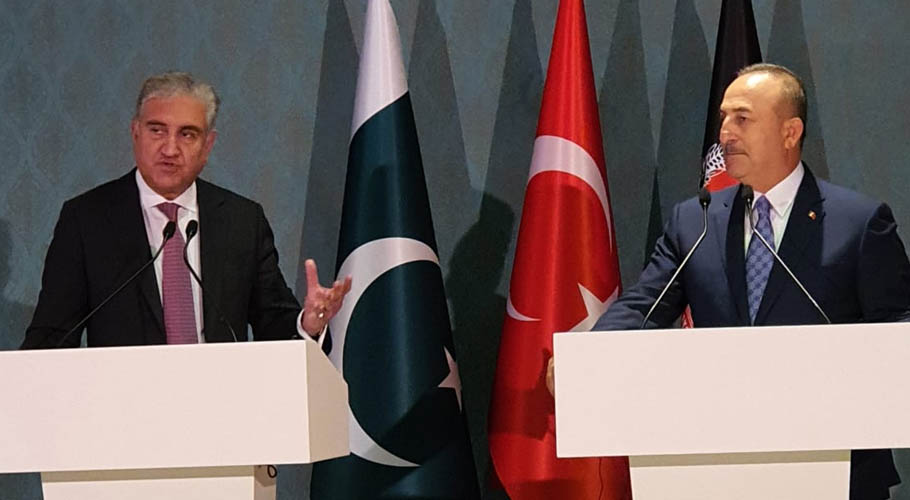 ANKARA: The foreign ministers of Pakistan, Turkey, and Afghanistan in a joint statement have urged the  Taliban to reaffirm its commitment to achieving a negotiated settlement for lasting peace in Afghanistan.
A US-backed Afghan peace conference in Istanbul hosted by Turkey on Friday, Qatar and the United Nations scheduled for Saturday was postponed due to the Taliban's non-participation.
No new date has been set for those talks, but Ankara has said they would take place after the holy month of Ramazan.
Had an excellent trilateral meeting today with @MevlutCavusoglu and @MHaneefAtmar. This meeting comes at a very important time, as the Afghan Peace Process enters a critical phase and our meeting reflects our collective desire for the process to have a sustainable outcome. pic.twitter.com/LXrpuvKicv

— Shah Mahmood Qureshi (@SMQureshiPTI) April 23, 2021
Speaking at a joint news conference after the talks, Turkish Foreign Minister Mevlut Cavusoglu said Ankara s support for the Afghan peace process and efforts to organise the conference in Istanbul would continue.
"As the co-organizers, we are continuing talks on this with all sides," he said, alongside Pakistani Foreign Minister Shan Mahmood Qureshi. Afghan Foreign Minister Hanif Atmar joined the meeting via video link for health reasons, Cavusoglu said.
An inclusive peace, the end of violence and a stable Afghanistan is beneficial, promoting trans regional connectivity and a hub for East-West, North-South connectivity. The Int'l community must remain engaged with 🇦🇫 in reconstruction and economic development. https://t.co/Ghzob1nTng pic.twitter.com/R9nWVF4jHo

— Shah Mahmood Qureshi (@SMQureshiPTI) April 23, 2021
Last week, US President Joe Biden announced that the withdrawal of all its forces would begin on May 1 in line with an agreement President Donald Trump's administration made with the Taliban, but some US troops will remain to protect American diplomats.
Biden said American diplomatic and humanitarian efforts would continue in Afghanistan and that the US would support peace efforts between the Afghan government and the Taliban.
In line with Biden's announcement, all American troops will depart from Afghanistan by Sept. 11, the 20th anniversary of terrorist attacks in the US.
The intra-Afghan talks began after a February 2020 agreement between the Taliban and the US that sets a timeline for the withdrawal of foreign troops from Afghanistan in exchange for security guarantees.
Kabul has insisted on a permanent cease-fire, a demand so far rejected by the insurgents. The two sides have been engaged in a second round of talks in the Gulf city since January 10.