Transgender persons protest against rising violence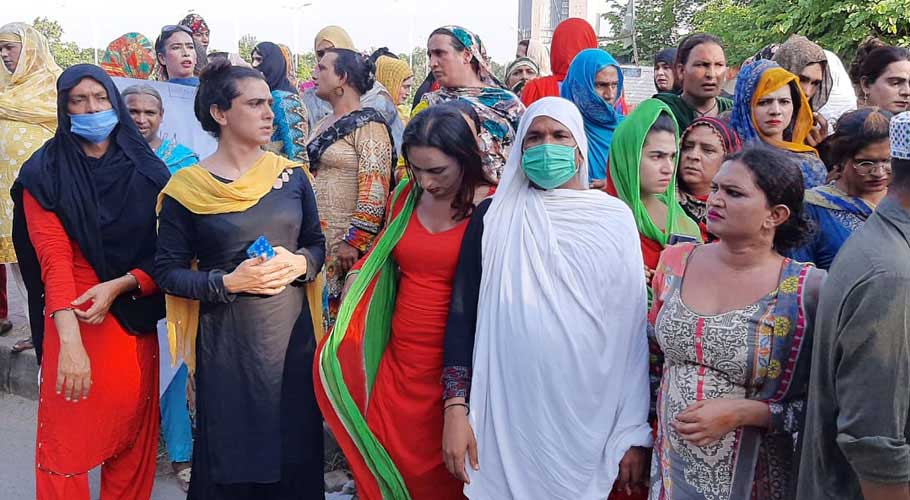 ISLAMABAD: Transgender persons of Islamabad and Rawalpindi today (Monday) staged a protest outside the National Press Club against the rise in incidents of violence against their community members and demanded protection by the government.
The protest was organised to highlight the plight of the community in the country, which according to many protesters was not being taken seriously by the police administration.
Shouting slogans against the provincial government and police for failing to protect them, the transgender persons said that they were facing injustice in the country and the law enforcement agencies were not taking any action in this regard.
"Whenever we go to them to register our complaint of any incidence of violence, we are refused our right of lodging an FIR," a transgender said, adding that violence against the transgender community is not even considered violence.
The protestor further said that not only was there hate against transgender persons in society, it also became more dangerous when it escalated from ridiculing them in public like cutting their hair or beating them up to brutally killing them.
The protesters claimed that in most such cases, killers weren't arrested, cases were not properly probed to arrest culprits, or strong cases weren't made against them.
Earlier in September, unidentified gunmen shot and killed a transgender woman in the northwest city of Peshawar. One of them, identified as Gul Panra, was killed in the attack, while another one was wounded.
A group of transgender women was returning home after performing at a wedding function when unidentified gunmen opened fire on them, police informed.