Terrorist threats: KMC asks to beef up security of all govt buildings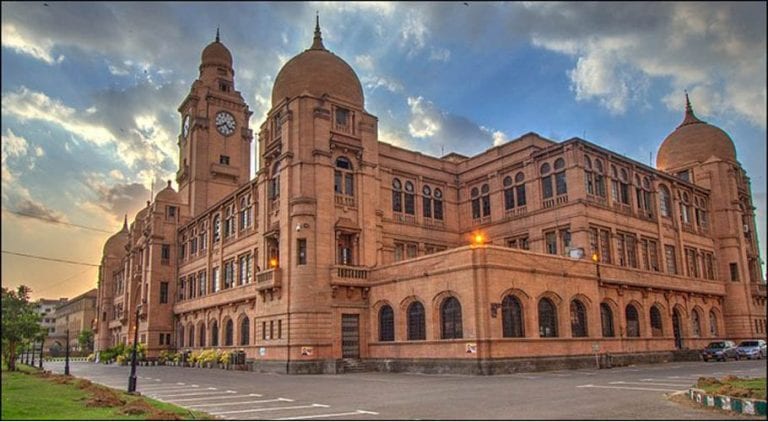 KARACHI: In light of the intelligence reports, Karachi Metropolitan Corporation (KMC) has issued a security alert stating that terrorists may attack the government buildings in the metropolis.
KMC in a statement asked all the concerned authorities to enhance the security of all the government buildings in the metropolis and ensure checking of vehicles and people at the entrance. The corporation has also imposed a ban on the entry of unrelated persons and vehicles at the premises of the KMC office.
On January 6, the National Counter Terrorism Authority (NACTA) had issued a terror alert for Karachi, warning that terrorists, backed by foreign agencies, have planned to attack key installations in the metropolis.
According to NACTA warning, key government buildings or installations could be targeted in the attack by foreign-backed terror elements. NACTA in the alert said the information had already been shared with the relevant Law Enforcing Agencies in Sindh province.
The authority has repeatedly warned of terror attacks recently being planned for Khyber Pakhtunkhwa (KP) and Balochistan province.
Earlier, the National Counter-Terrorism Authority had issued a fresh threat alert to police and law enforcement agencies in all the provinces, especially KP and Balochistan, asking for upgraded security measures.
According to the threat alert, the Tehreek-e-Taliban Pakistan had planned to carry out large-scale terrorist attacks in Peshawar and Quetta, targeting political and religious leadership.
It said that acting on such reports, on October 21, a terror plot for Balochistan was foiled. He said that during the operation, conducted in Qamar Din Karez, eight explosive devices were recovered.
"This material was to be used for attacks in Quetta and Peshawar," NACTA said. The authority has recommended strict security measures in Quetta and Peshawar to avoid any untoward incident.