'Sugar mafia blackmailing govt': FM Qureshi criticizes Tareen group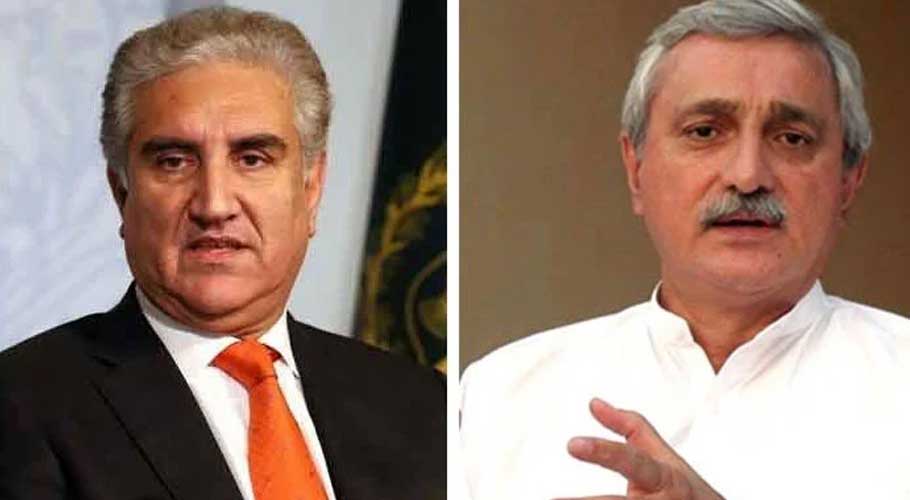 NEW YORK: Foreign Minister Shah Mahmood Qureshi has strongly criticized the Jahangir Tareen group within the Pakistan Tehreek-e-Insaaf (PTI), saying that the sugar mafia has been criticizing the government.  
"They say we are with PTI and Imran Khan is our leader. If that is so, then why the contradiction?" the foreign minister said while speaking to party workers in New York.
Criticising the Punjab lawmakers standing with Tareen, FM Qureshi said that if they wished to stand with the prime minister then they should do so without hesitancy.  "Imran Khan has said he is not out to get revenge," he added.
Reports of differences between Tareen and the foreign minister made their way to the media a month before general elections 2018 when Qureshi hit out against Tareen.
Without naming Tareen, FM Qureshi said he didn't consider someone as competition if that person could not contest an election. After the jibe, Tareen had advised Qureshi to refrain from taking the party's internal divisions public.
Issues between Tareen's group, PTI getting resolved
A day earlier, Federal Minister Fawad Chaudhry claimed that issues were getting resolved between the PTI and members of estranged leader Jahangir Khan Tareen's group and decided to unite under the leadership of Prime Minister Imran Khan.
Addressing a press conference in Lahore along with members of the Tareen's group on Saturday, the minister said that they heard the position of the group in detail and made clear their stance on the issues.
He said, "We have decided that we will sit and have talked to solve any personal or collective problems. We are all united under the PM Imran Khan's leadership."
On this occasion, Punjab Agriculture Minister Malik Nauman Ahmad Langrial said today's meeting came after the Tareen's group held a meeting with Punjab Chief Minister yesterday. "We are content with the way the prone is proceeding against Tareen and we are pleased today with the PM's promise to us that there would be no injustice with Tareen," he added.
Separate group
Tareen had said his supporters had decided to form a separate group after the Punjab government initiated "revenge" against his supporters. However, Tareen denied reports he was forming a forward bloc in the party.
"We were part of the PTI, we are part of the PTI and we will continue to remain part of the PTI," he announced. Tareen was accompanied by his supporters, who include Punjab government ministers and other lawmakers of the PTI.
Tareen said his "supporters" were standing with him as far as, what he referred to as the "fake" FIR against him is concerned, adding that the pro-Tareen group had met the prime minister.