Stock market stagnant as 100 index slips by 11 points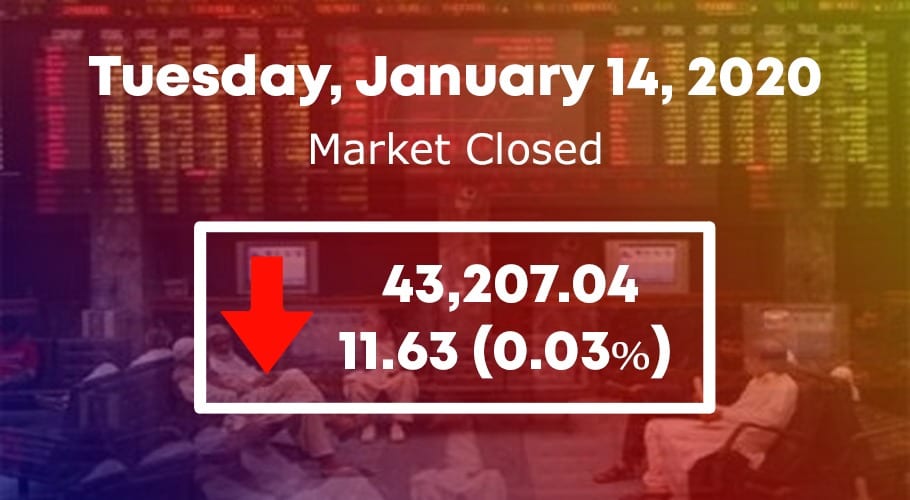 KARACHI: It remains a clumsy day at the stock market as the KSE 100 index recorded a minuscule decline over eleven points during intra-day trading.
In sharp contrast to the rally last week, the Pakistan Stock Exchange began to stagnate after cross the 43,000 points level. The stock market managed to gain just eleven points on Monday over a range-bound session that ended on positive note with indices in the green.
On Tuesday, the benchmark KSE 100 index declined by a minuscule 11.63 points or a decrease of 0.03 percent to close at 43,207.04 points. It was a frustrating day as the stock market fluctuated between 373 points. The total volume of scripts was 151.127 million valued at Rs6.486 billion.
Meanwhile, the lower bench KSE 30 index also witnessed a decline of 2.45 (-0.01%) to close at 20,030.06 points. The total volume of scripts was 89.533 million. The most active stock were BOP (0.75%), TRG (-1.15%), TPL (7.72%), BYCO (6.58%) although K-Electric (-2.59%), EPCL (-3.78%), Summit Bank (-12.98%) and MLCF (-1.08%).
Many investors are awaiting the monetary policy announcement for January which would set the strategy for the second half of the current fiscal year. Investor's confidence has also been boosted as international credit agency Fitch has rated Pakistan as 'B-' with a stable outlook.