Shura Hamdard calls for uniformed education system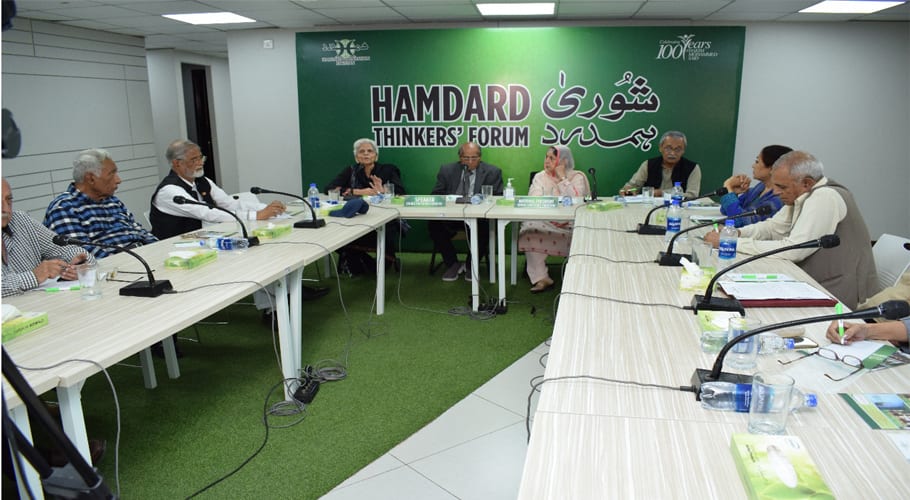 KARACHI: Members of the Shura Hamdard Karachi raised the number of education-related issues and presented their suggestions in a monthly conference held at Hamdard Corporate Head Office Karachi on Monday.
The title of the conference was  "Our education system and ever-changing global horizons" presided by Justice (R) Haziq-al-Khairi, a prominent journalist and an education expert Zubaida Mustafa was invited as a chief guest to share her thoughts on this important topic.
Zubaida Mustafa while expressing her views said educational issues should have the highest priorities and there should be a greater emphasis on girls' education because only an educated woman could have a deeper positive impact on society.
 She said, "The ground reality is very alarming as there are approximately 23 million children who are not attending the school."  Moreover, the statistics are not accurate given the fact that the data collecting mechanism has not been modernized.  Dr. Riswana Ansari said "The Majority of government schools in Sindh are in deplorable condition.
Incapable teachers cuss of the biggest hurdle in the education system. She said there should be military-style training for teachers in order to discipline them.
Schools should be strictly monitored to raise the standard of education as well as teachers' behavior. Moreover, the government should have one uniformed educational system for the whole country. Anwar-ul-Haq Siddiqui said basic education should be the top agenda for reforms in the educational sector.
According to him, around 91 percent of government schools in Sindh are primary that is why there is a major dropout ratio in Sindh. "Children have no other option but to give up education as there are no middle or higher education schools available for them," he said.
 Anwar also said the quality of education was getting lowered due to a lack of monitoring. Prof. Muhammad Rafi said "We have to be transparent before formulating basic education policy.
Character-building and creativity should be in the main focus along with education. Speaking on this occasion, Sadeed Anwar Malik said uniformed single curriculum all over Pakistan would reduce the prevailing ethnic, religious and social discriminations, bias and prejudice.
While speaking on the marginalized children of Madaris he said "Madaris children do not have enough opportunities to explore therefore should be part of mainstream and single curriculum which will help boost their potential and competitiveness.
He said cheating in education is disturbingly high. Strict action is needed and those involved in heinous crime should face severe consequences.
Col. Mukhtar Ahmed Butt highlighted different issues and said "Education is a service, not a business. The government should discourage this corporate shape of education. Corruption is rampant in the education sector. Institutes are involved in selling degrees. Ghost teacher is a common phenomenon all over Sindh."
He said "Major portion of this 2pc goes as salary expanse of teachers and department is left with little funds to establish new schools and increase facilities in all schools," he said.