PSX in the red again as KSE-100 loses 138 points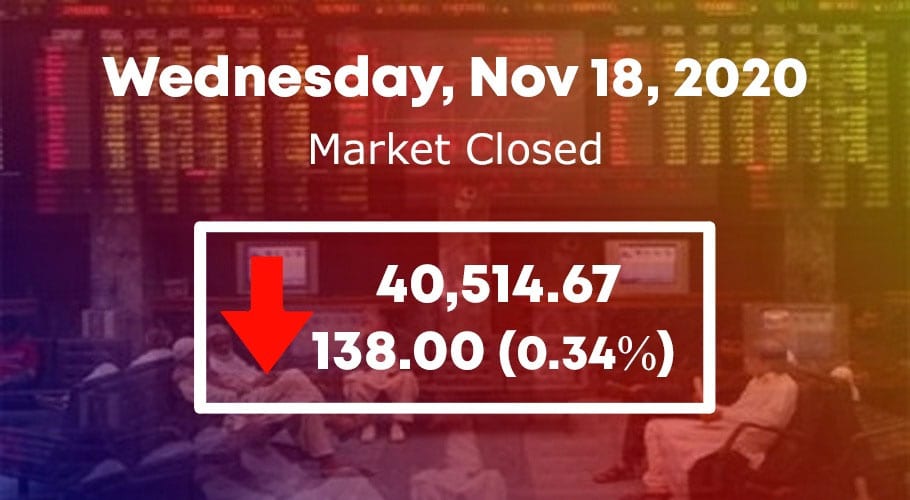 KARACHI: The Pakistan Stock Exchange (PSX) was back in the negative territory on Wednesday, with the indices failing to maintain yesterday's momentum.
The benchmark KSE-100 Index remained in the red for the most part, registering its intraday low at 40,344.62 after losing 308.05 points. It settled lower by 138.00 points at 40,514.67  today.
Among other indices, the KMI-30 Index dropped 372.46 points to end at 64,494.94, while the KSE All Share Index fell 99.44 points, closing at 28,390.57. The overall market volumes contracted from 150.33 million shares in the previous session to 145.88 million shares (-5pc).
Average traded value also declined by 2pc, from $40 million to $39.1 million. TRG Pakistan Ltd (TRG +2.85pc), Unity Foods Ltd (UNITY +0.31pc) and Soneri Bank Ltd (SNBL -1.91pc) led the volume chart, exchanging 11.95 million, 8.79 million and 6.44 million shares, respectively.
Sectors that dragged the benchmark index lower included oil & gas exploration (-51.69 points), cement (-24.27 points) and oil & gas marketing (-16.85 points).
Among the companies, Habib Bank Ltd (HBL -20.15 points), Pak Petroleum Ltd (PPL -19.21 points) and Engro Corporation Ltd (ENGRO -17.70 points) dented the index the most.
Shedding 1.03pc from its cumulative market capitalization, the oil & gas exploration sector ended as the session's top loser, with Mari Petroleum Company Ltd (MARI -1.32pc), Oil and Gas Development Company Ltd (OGDC -0.58pc), Pak Petroleum Ltd (PPL -1.46pc) and Pakistan Oilfields Ltd (POL 1.30pc) closing in the negative.
Meanwhile, Honda Atlas Cars (Pakistan) Ltd (HCAR -0.30pc) declared its financial performance for the second quarter of FY21. The company's sales surged 213.68pc to Rs20.43 billion, whereas finance cost declined from Rs199.99 million in 2QFY20 to Rs17.52 million. HCAR's earnings per share improved from Rs3.57 last year to Rs4.60 in 2QFY21.