Police arrests security guard for brutally beating up woman in Karachi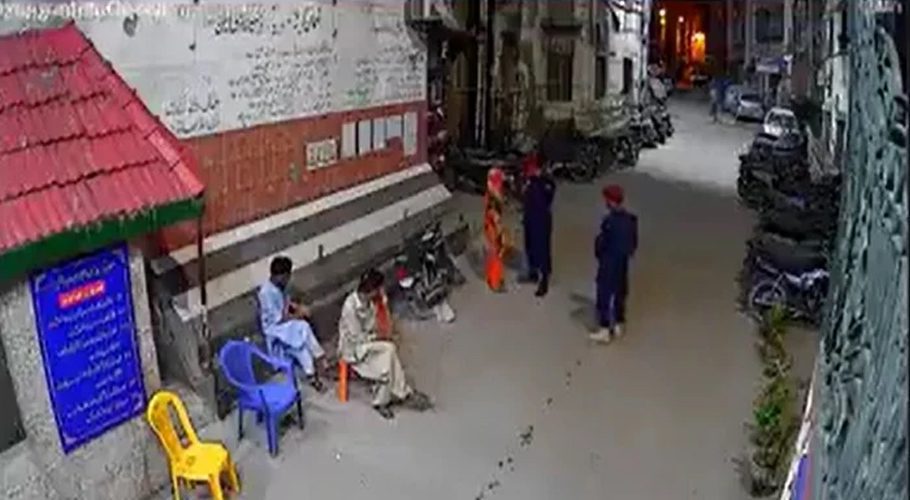 KARACHI: On the order of Chief Minister Sindh Syed Murad Ali Shah, the police on Monday arrested a security guard for beating up a female outside an apartment building in Gulistan-e-Jauhar, Karachi after a video of the incident was widely circulated on social media.
Closed-circuit television (CCTV) camera footage of the incident shows the man arguing with the woman just before slapping her.
The woman fell to the ground and kept trying to get up, but the guard kicked her in the face, the footage showed.
کراچی گلستان جوہر بلاک 17 میں اپارٹمنٹ کے سیکیورٹی گارڈ نے پہلے خاتون کی تذلیل کی پھر تھپڑ اور لات مار کر بے ہوش کردیا، بے غیرتی کی انتہا کہ پاس بیٹھے لوگ بجائے بیچ بچاو کروانے کے معاملہ دیکھ کر کھسکنے لگے، کہاں ہیں انسانی حقوق والے؟ @SyedaShehlaRaza@PoliceMediaCell pic.twitter.com/WVOIG0TeYr

— Nazir Shah (@SsyedHhussain) August 8, 2022
The violent incident is of two days ago. Sindh Chief Minister Murad Ali Shah took notice of the incident Monday and gave instructions to take immediate action against the guard.
Read More:Private security guard brutally beats woman in Karachi, video goes viral
"How did the guard have the audacity to raise his hands at the woman and be violent?" the Sindh CM questioned. 
An inquiry has been initiated and the guard has been taken into custody.
According to a private TV channel, the security is of the view that the woman had slapped him first.