Pakistan wants to enhance military ties with Saudi Arabia: COAS Bajwa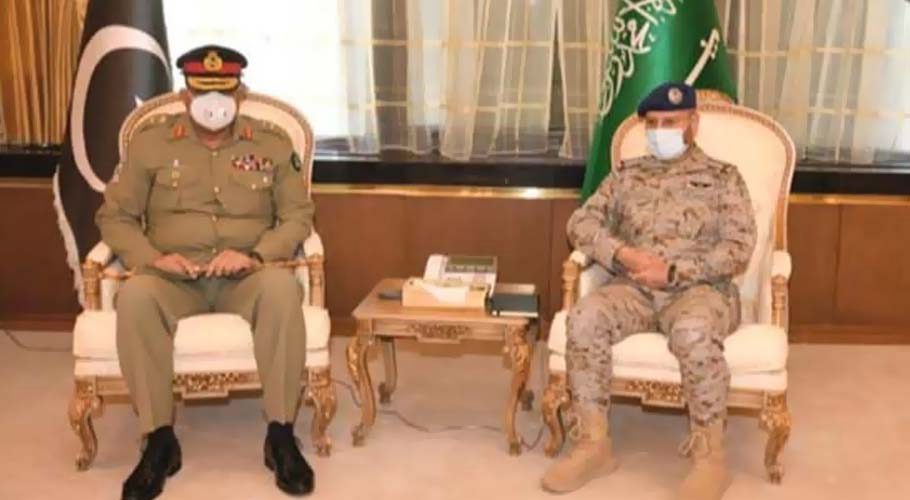 RAWALPINDI: Chief of Army Staff General Qamar Javed Bajwa emphasized the enhancement of cooperation between Pak-Saudi armed forces.
According to Inter-Services Public Relations (ISPR), Army Chief General Qamar Javed Bajwa said this in a meeting with the Saudi Chief of General Staff during a visit to Saudi Arabia on Wednesday.
The two military leaders discussed issues of mutual interest as well as the security situation in the region. The meeting also discussed the progress of the Afghan peace process and the issue of further enhancing defense cooperation between Pakistan and Saudi Arabia.
As per ISPR, the Chief of the Saudi Armed Forces expressed gratitude to General Qamar Bajwa for his sentiments and assured him of full cooperation for peace in the region.
Earlier, Federal Minister Shibli Faraz had termed the Pakistan-Saudi ties as a 'relationship of hearts' and reiterated that Pakistanis have great reverence for the Custodian of the Two Holy Mosques.
He expressed these views in a meeting with Saudi Ambassador Nawaf bin Saeed Al-Malki in Islamabad. The envoy was accompanied by the Information Attache of the Saudi Embassy.
On the occasion, the Information Minister said that Pakistan and Saudi Arabia's relations remain steadfast as ever. "We are determined to further building up these historic fraternal ties," he added.
During the meeting, Pakistan and Saudi Arabia agreed to strengthen cooperation and collaboration in the fields of media and culture. In this regard, both personalities emphasised on exchange and telecast of TV plays and the screening of movies in each other's country.
Both the countries also agreed on the production of programs highlighting the life and achievements of Muslim heroes, depicting the true Islamic culture.
He also commended the arrangements made by the Saudi government for Hajj this year despite difficulties posed by the ongoing COVID-19 pandemic.