NAB receives 13-day physical remand of Ahsan Iqbal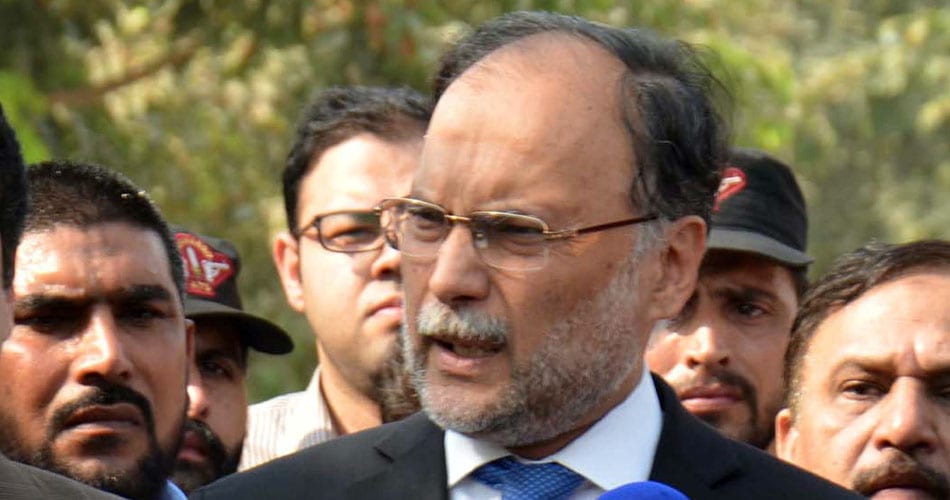 ISLAMABAD: The National Accountability Bureau (NAB) on Tuesday produced former interior minister Ahsan Iqbal before an accountability court in the Narowal Sports City corruption case.
The accountability court granted a 13-day physical remand of Pakistan Muslim League-Nawaz (PML-N) leader Ahsan Iqbal till January 6. Accountability court judge Mohammed Bashir presided over the proceedings.
Speaking to the media before the hearing, Iqbal said that case was an example of the NAB-Niazi nexus, and will not prevent him from speaking against Prime Minister Imran Khan.
"I accept the punishment if I am being punished for speaking out in favour of the death sentence handed to Gen Pervez Musharraf. I accept the punishment if I was arrested for fulfilling my promises to the people of Narowal.
"If by arresting me they think they can stop me from speaking out against Imran Ahmed Niazi, that is not acceptable."
Read more: PTI government is source of entertainment: Ahsan Iqbal
Ahsan Iqbal was arrested earlier on Monday by the NAB when he appeared before the Rawalpindi bureau where he was summoned for investigation in the case.
The medical check-up of  the PML-N leader was conducted yesterday to ensure he was fit and declared completely healthy.
Iqbal is accused of using funds of the federal government and the Pakistan Sports Board (PSB) for a sports city being established in Narowal a multi-billion-rupee project.  
Also read: Ahsan Iqbal arrested in Narowal Sports City corruption case
The cost of the project was Rs2.9 billion and Rs2.5 billion had already been spent. The funds allocated were then spent through the PSB and the Ministry of Sports had devolved after the 18th constitutional amendment and it was a provincial subject. 
In this regard, the NAB Rawalpindi seized the Narowal Sports City project's record as an investigation against him.
Earlier while speaking to media, the former interior minister claimed that he was not involved in any corruption in the Narowal Sports City Project. He blamed the incumbent government for levying false allegations against him. Iqbal told reporters that he had nothing to do with the project and all allegations against him were false.