Rana Sanaullah's bail plea adjourned for indefinite period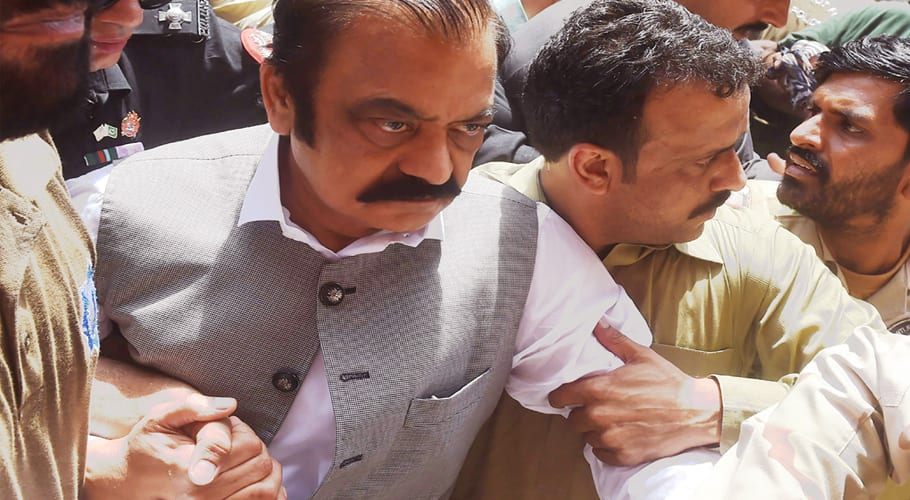 LAHORE: The Lahore High Court (LHC) has adjourned a bail plea of former law minister Rana Sanaullah for an indefinite period in the narcotics case.
The reason behind the adjourning of the case for an indefinite period is due to Justice Chaudhry Mushtaq Ahmed Khan being on leave.
In a previous hearing, the court issued a notice to the Anti-Narcotics Force (ANF) to come up with comments on the petition.
Read more: LHC issues Rana Sanaullah's bail notice to ANF
On 2nd October, Rana Sanaullah moved the LHC for post-arrest bail in the drug case after a special court for Control of Narcotics Substances dismissed his bail plea.
He stated in his petition that the case against him was politically motivated and based on mala fide intention. His counsel claimed the prosecution has thus far failed to present any witness of the alleged recovery of narcotics from his client.
Last week, Sanaullah's judicial remand was extended for fourteen days.
Rana Sanaullah was arrested by the Anti-Narcotics Force on 1st July over his alleged links with drug traffickers in Lahore.
Also read: Rana Sanaullah's judicial remand extended for 14 days
Rana Sanaullah and six other suspects have been named in the 200-page long challan.
Anti Narcotics Force (ANF) claimed that it had seized a large number of drugs in possession of Sanaullah and lodged a case under section 9 (C) of Control of Narcotic Substances Act 1997.