Mufti Muneeb condemns blasphemous cartoons, urges Muslim unity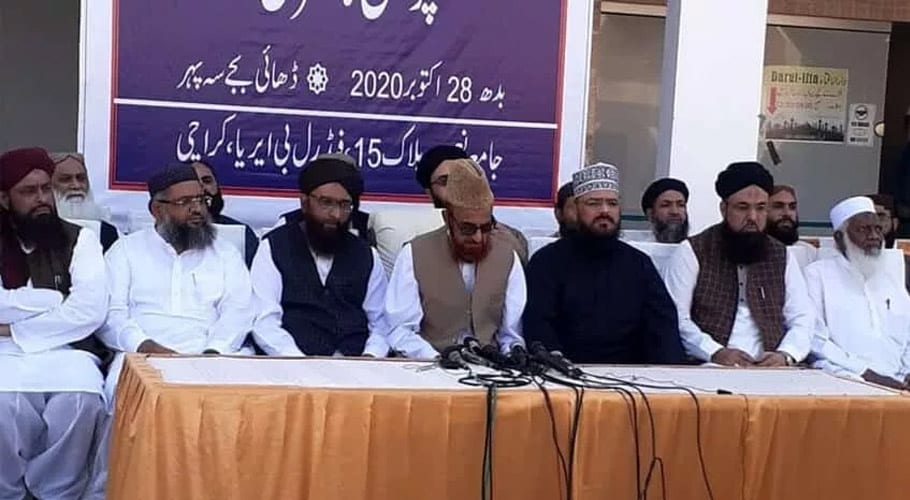 KARACHI: Prominent religious scholar Mufti Muneeb-ur-Rehman has strongly condemned the French for publishing blasphe­mous caricatures and urged the Muslim Ummah to get united to chalk out a strategy to end in­human act of anti-Islam.
While addressing a press conference today, he said, "The mere condemnation on the part of the govern­ment is not enough for this act, rather it should expel the French diplomat by severing diplomatic ties for commit­ting blasphemy."
He said that the West is showing extremist while publishing the blasphemous caricatures, adding that all parties in Pakistan and Muslim countries at the international level should take notice of the issue. He said the war of civilization is being started while instigating the sentiments of Muslims.
Muneeb said the closure of some mosques and Islamic centers in France was against freedom of religion. "This issue should be raised at the level of the European Union and the United Nations. There was no strong reaction from any Muslim ruler except Pakistan and Turkey," The religious scholar added.
"We demanded the electronic and print media publish a list of French products available in Pakistani markets to raise awareness and publicize the boycott campaign, as well as to display these lists prominently in front of all the superstores," he added.
Five years ago, the blasphemous caricatures depicting Prophet (PBUH) were first published by a French satirical magazine, whose editorial offices were attacked by gunmen in 2015, killing 12 people.
Since the beheading of the teacher this month, the blasphemous sketches have been displayed in France in solidarity, angering some Muslims.