More than 50 countries support Pakistan's stance on IOK: FM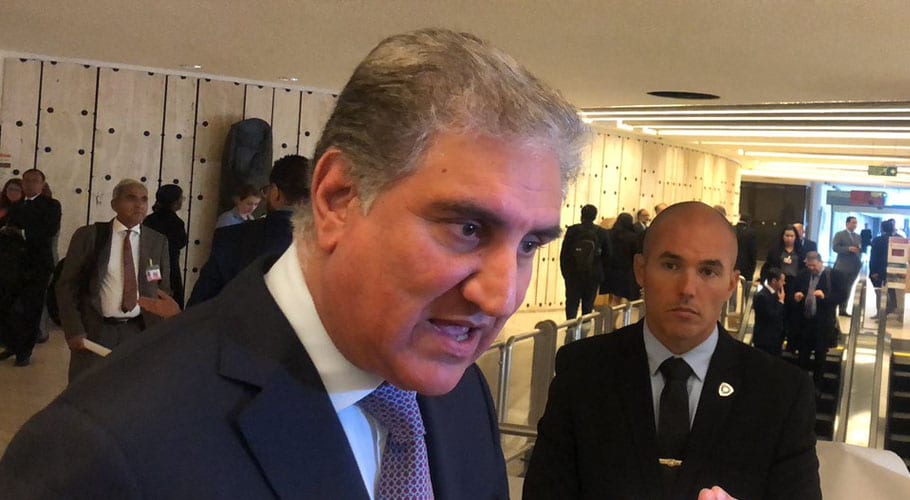 GENEVA: Foreign Minister Shah Mahmood Qureshi on Wednesday said that over 50 countries have supported Pakistan's stance on India occupied Kashmir.
In an interview with Turkish media, FM Qureshi said that India is trying to change the demographics of the occupied Kashmir. He added that more than fifty countries have supported Pakistan's stance on Kashmir. He added that Kashmiris are fighting for their rights which they are allowed under the Human Rights Charter of the United Nations.
 He reiterated that Pakistan will continue to support Kashmiris morally and diplomatically. Pakistan believes Kashmiris are fighting for their liberty and freedom, as they are living under the Indian occupation since August 5.
He said, "Pakistan and Turkey have been enjoying exemplary friendly relations and both the countries always supported one other in difficult times." FM Qureshi said that Turkey had also supported Islamabad in OIC's summit yesterday.
The foreign minister said that they were awaiting Turkish President Recep Tayyip Erdoğan's visit to Pakistan. He said that bilateral relations, economic cooperation, regional security, and other issues would be discussed during his visit to Islamabad.
Responding to a question, FM Qureshi said that Pakistan supported the Afghan peace process and played a mediatory role to resolve the decades-old issue. He said that peace should be given a chance in Afghanistan.
It is noteworthy that Turkey and OIC participants have reiterated in UN that India should stop human rights violations in Indian occupied Jammu and Kashmir and immediately release political prisoners. 
"The worsening human rights and humanitarian situation in the Indian Administered Jammu & Kashmir, especially following decisions taken on August 5, 2019, requires urgent attention by the Human Rights Council and human rights mechanisms," the countries said in a joint statement.
Meanwhile, Pakistan expressed its gratitude to the countries which became part of this Joint Statement in support of the people of Kashmir, reinforcing serious concerns of the international community about the unprecedented restrictions, continued curfew and curtailment of fundamental rights and freedom of the Kashmiri population.