Maulana Fazl criticizes 'helpless' ECP over delay in foreign funding case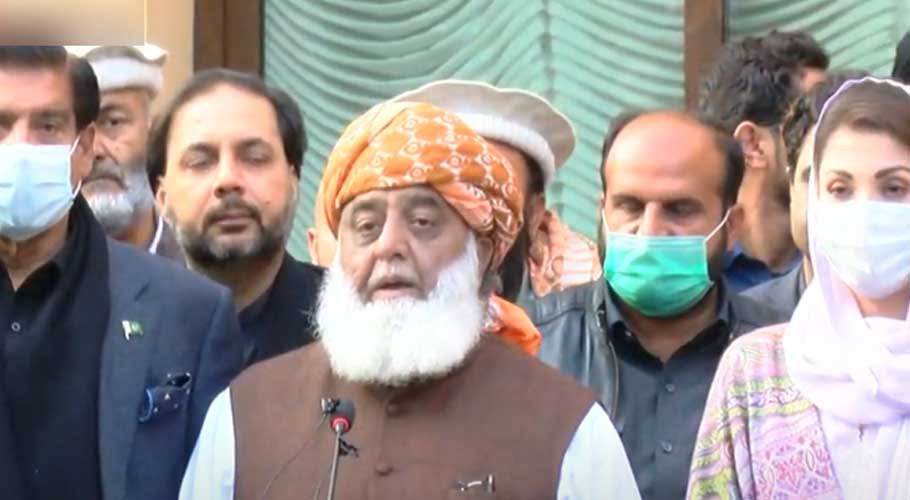 ISLAMABAD: JUI-F chief Maulana Fazlur Rehman has strongly criticized the 'helpless' Election Commission of Pakistan (ECP) over delay in PTI's foreign funding case.
"If the ECP still decides to support an ineligible government and its team, then we cannot have faith in the authority in the future," he said while addressing the protesters.
Opposition parties, under Pakistan Democratic Movement (PDM), are protesting outside the office of the Election Commission of Pakistan (ECP) in Islamabad against a 'delayed' verdict in PTI's foreign funding case.
Addressing the rally, Rehman accused the ECP of having failed to conduct transparent elections. "Some powerful institutions took over the election and imposed a daf-playing man on the people," he added.
The PDM chief repeated the allegation that Prime Minister Imran had fought elections on money from India and Israel. He said the PTI demanded instant justice in cases concerning others, but had submitted 50 requests to delay the foreign funding case against it.
"Israel and India are Pakistan's enemies, you are using their money to make a person the prime minister. Pakistan is an atomic power, by making such a person sit on the chair, they all become suspicious," he added.
Noting that the government wanted the opposition not to bring students of seminaries to political rallies, Rehman said, "Why are you afraid of religious seminaries? He announced that madressah students will attend the PDM Kashmir rally on February 5 as well as anti-Israel protests to be held in Karachi on Feb 21.