KU offers special concession for students of affiliated colleges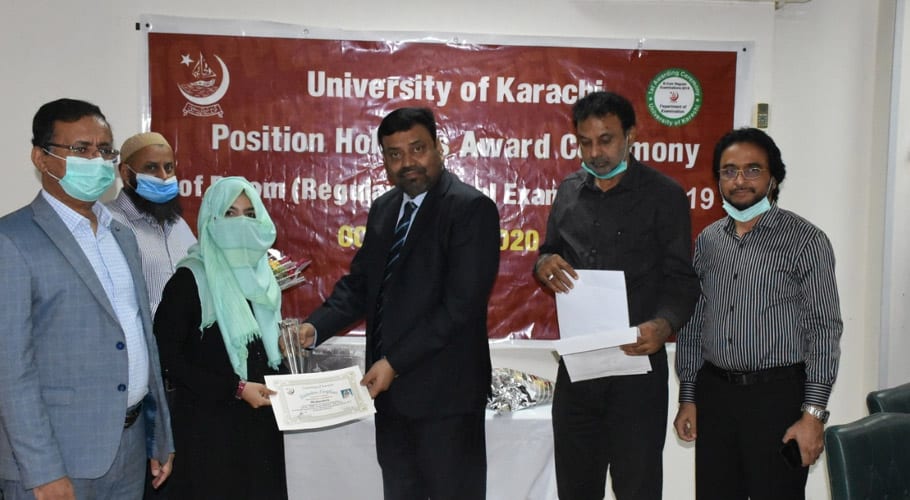 KARACHI: The University of Karachi has decided to offer free education and special discount to position holders of commerce, science, and arts disciplines of its affiliated colleges if they chose the University of Karachi for their higher education. 
KU Vice-Chancellor Professor Dr Khalid Mahmood Iraqi while addressing a ceremony arranged in honor of the position holder students of BCom (Regular) Annual Examination 2019 said, "This special fund aimed to provide them an opportunity to carry on their higher studies".
The University of Karachi will provide free education to the student, who will achieve the first position in the exams while the student, with the second position, will have to pay a 25 percent fee, and the student, with the third position, will have to pay a 50 percent fee only.
"The University of Karachi is also offering various scholarships and the Students Admission Fund has been established to help out students who could not apply to get admissions due to their financial problems," the VC said.
He mentioned that without any doubt our youth is the asset of the nation and the bright future of the society. Iraqi said, "It is important that we appreciate their performances and also encourage them so that they can work harder in the future".
He observed that only intelligent and talented students can move forward in this age of competition. "This journey of knowledge should not be limited to just getting a degree but should play a positive and key role in the development of our country and society when stepping into practical life," he added.
Meanwhile, the Controller of Examinations, Dr Syed Zafar Hussain informed the audience, "This is the first time that the University of Karachi is arranging such events to celebrate the achievement of the toppers".
The Secretary Affiliation Committee KU Professor Dr Faiyaz H. M. Vaid expressed that the University of Karachi would like to give affiliation to colleges if they completely fulfill the predefined criteria.
He said that all terms and conditions are available on the university's website and those who could fulfill them would get affiliation from the campus.
As per result,  Iffat Ashraf Kamdar daughter of Muhammad Ashraf Kamdar, student of D.A. Degree College Women (Phase VIII), who clinched the overall first position.
Mubashra daughter of  Ashfaq Ahmed, a student of Government College of Commerce and Economics, and Syeda Nabail Raza Rizvi daughter of Syed Asif Raza Rizvi, a student of Government Premier College for Girls, bagged second and third positions respectively.
The position holder students appreciated the decision to arrange the ceremony and expressed that it would surely boost the confidence of students and they would work hard to get good results in the exams. The top position holder students received cash prizes, shields, and certificates,