Karachi police arrest 1,154 criminals in last seven days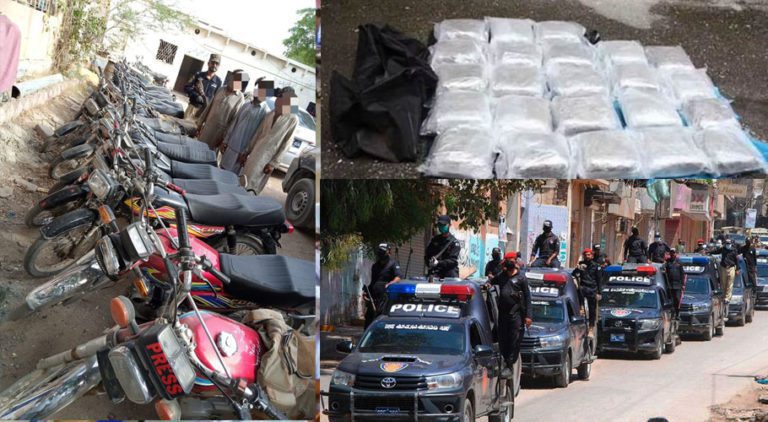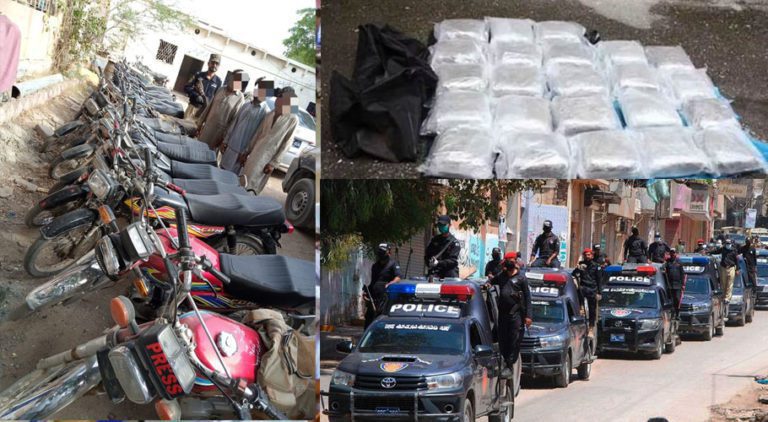 Karachi police in successful operations against street criminals, drug dealers and fugitives in the city have arrested 1154 accused.
Police arrested a total of more than 1,154 suspects during raids in Karachi's East, West and South Zones last week.
During the ongoing anti-drug drive by the police, 147 kg 14 grams of hashish, 02 kg 268 grams heroin and 06 kg 682 grams ice worth millions of rupees were recovered from different areas.
According to police officials, more than 139 different types of illegal weapons along with ammunition used in looting and other incidents were seized from the arrested street criminals.
During anti-crime activities in the city, 7 encounters were held with the accused, 2 dacoits were killed and 6 injured dacoits were arrested in the exchange of fire. 5 motorcycles and 7 pistols with loaded
magazines were recovered from the arrested dacoits. 
Anti Vehicle Lifting Cell Karachi arrested 16 accused of car / motorcycle lifting gang from different areas of the city and recovered 7 stolen / snatched vehicles, 4 motorcycles and 3 pistols used in the incident.
Karachi police conducted operations in different areas and seized a total of 45 snatched and stolen motorcycles and 12 vehicles.
Karachi Police will continue to take steps to eradicate crime, restore law and order and protect the people.