Indian terrorism exposed: Will FATF now blacklisted it?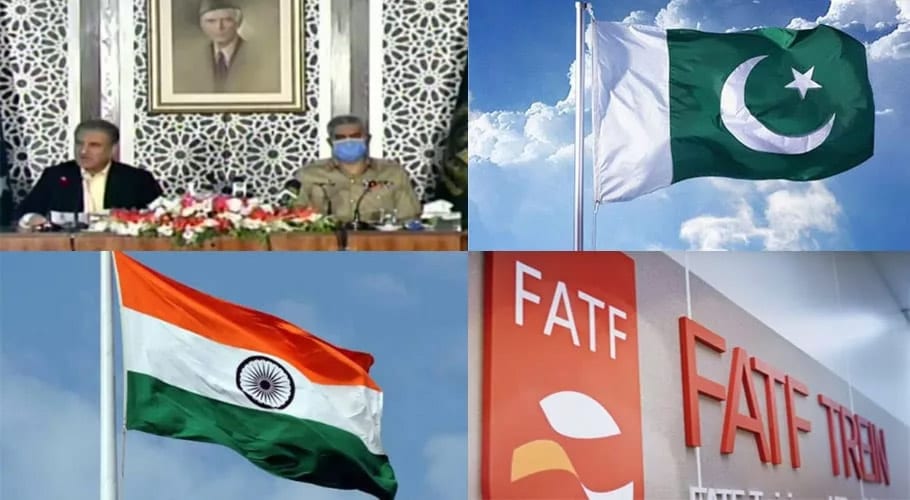 Pakistan on Saturday regretted that despite the battle against the COVID-19 pandemic, it is unfortunate that India, a state which sponsors cross border terrorism, continues to use every opportunity to promote false narratives and make baseless, malicious and egregious allegations against Pakistan and interfere in internal affairs.
India has over the years been financing terrorism in Pakistan from across the border. The Indian agencies are using Afghanistan as a second front against Pakistan.
The Indian top agency RAW was involved in the kidnapping and killing of Chinese engineers in 2006 and 2016 in Balochistan province. The Gwadar Pearl Continental hotel attack claimed by BLA was sponsored by RAW in an effort to harm China Pakistan Economic Corridor (CPEC). 
India yet to accept the existence of Pakistan
India is yet to reconcile and accept the existence of Pakistan and is always busy plotting conspiracies to destabilize Pakistan.
In his book Inside RAW, The Story of India's Secret Services, the author Ashoka Raina wrote, "Indian forces, agencies,  including journalists have put on record how much RAW had set up the network of a separatist movement through cells within East Pakistan and military training camps in India adjoining East Pakistan".
India is now trying hard to damage Pakistan not only from the east but also from the west (Afghanistan) in the light of the so-called Doval doctrine.
According to this doctrine, India desires to go into the offensive-defensive mode when dealing with Pakistan and warned Pakistan by saying "you may do one Mumbai, you may lose Balochistan".
India sponsors terrorists against Pakistan
Today, Foreign Minister Shah Mehmood Qureshi and  Director-General Inter-Services Public Relations (ISPR) Major General Babar held a joint press conference during which they exposed India's nefarious intentions and organized terrorism against Pakistan.
The foreign minister presented a dossier containing details of India's state-sponsored terrorism being carried out in Pakistan.
FM Qureshi said Indian agencies have tried its best to fan terrorism across Pakistan and recent terrorist attacks in Quetta and Peshawar are the latest examples of such activities.
He said Indian agencies through their subversive activities want to reverse Pakistan's success against terrorism. He named Indian intelligence agencies, RAW and DIA, which are financing, training, and harboring terrorists to create instability in Pakistan.
'India has three objectives' in Pakistan
The foreign minister explained that New Delhi has three objectives: derailing Pakistan's journey towards peace, economic and political stability.
FM Qureshi said the first aim is to create hindrance in Pakistan's move towards peace, He said India cannot accept that Pakistan has defeated terrorism and is moving towards peace and was promoting "nationalism and sub-nationalism" in Gilgit Baltistan (GB), tribal districts, and Balochistan.
The second purpose was to make sure Pakistan did not become economically stable. Referring to India's stance to push for Pakistan to be blacklisted at the FATF plenary meeting, he said Indian agencies were creating obstacles in our path towards prosperity. Their third objective is political instability to destabilise the peace and progress in the country.
India uniting terrorist against Pakistan
Director-General Inter-Services Public Relations said India is endeavoring to set up a consortium of Tehreek e Taliban Pakistan (TTP) with banned dissident organizations of Balochistan united under the supervision of Baloch Raaji Aajoie Sangar (BRAS) constituted in 2018. 
ISPR informed that an Indian intelligence officer identified as Colonel Rajesh, employed at the Indian Embassy in Afghanistan, is the master plotter and a letter in Dari disclosed that he has held four meetings with commanders of terrorist organizations to synergize efforts and upscale terrorist activities in metropolitan metropolises including Karachi, Lahore and Peshawar in November and December this year. 
Iftikhar Babar said the Indian agencies are also trying to establish Daesh e Pakistan. Recently, more than 19 Indian Daesh terrorists were relocated from India to camps along the Pak-Afgan border.
These militants were handed over to Daesh Commander Sheikh Abdul Rahim alias Abdul Rehman Muslim Dost, he said.
Embassies, consulates hub of terror sponsorship
Pakistan said evidence showed Indian embassies and consulates operating along Pakistan's borders have become a hub of terror sponsorship against Pakistan.
The military spokesman said Indian ambassadors in Afghanistan regularly supervise terrorist activities. He cited an incident where the ambassador and consular in Jalalabad held detailed discussions with collaborators to provide financial support to the TTP and dissident Baloch elements. 
Sabotaging CPEC
The army spokesperson stated India was sabotaging the China-Pakistan Economic Corridor (CPEC) and is supporting terrorism in Pakistan. India cannot tolerate Pakistan's success against terrorism, he added.
ISPR said India raised a militia of 700 people to undertake terrorism in Balochistan. "A commission comprising 24 members was created which included 10 RAW operatives. A sum of $60 million was dedicated to this force."
He said Indian Embassy regularly pays handsome amounts to sub-nationalists under the garb of humanitarian assistance work. 
Recent attacks
The army spokesperson highlighted major attacks that were traced back to RAW. These include the Agriculture University attack in Peshawar on October 26, 2017, the May 11, 2019 attack at PC Hotel in Gwadar, and an IED attack on Peshawar police on May 11, 2020. 
He said the intelligence agencies averted a massive terrorist attack on August 14 this year. That "network had already carried out seven terrorist attacks in Hub, Mastung, Quetta and Sohrab on RAW's behest."
Indian Interference in AJK & GB
the DG ISPR said tangible evidence indicates that RAW is involved in the planting IEDs in AJK to target civilians and military personnel. He informed since January 2016, 60 IEDs have been planted out of which 38 have exploded killing 13 civilians and 46 military personnel. While 22 were neutralised.
The forensic analysis of IEDs has confirmed the use of Indian components. Explosive used in IEDs is available at a digital platform 'Indiamart', TVS bolts are made by Indian company Tamil Nadu and PFS bolts are made by an Indian company in Maharashtra. Alinco 'walkie talkie' set is being sold by Space Telecom New Delhi on 'Indiamart'.
Regarding GB, Gen Iftikhar said the Indian Ministry of Home Affairs held a meeting to deliberate methodology to trigger negative reactions to Pakistan granting provisional provincial status to GB.
He said that India will mobilize "hostile elements" to undertake various subversive operations in Kashmir and GB after November 20.
FATF must review India's role
On the other hand, the involvement of Indian banks in money laundering and financing terrorism has been uncovered. In this regard on September 27, a report names 44 Indian banks highlighting by a US agency that works to combat money laundering, terrorism financing and financial fraud.
The recent US Treasury Department's Financial Crimes Enforcement Network (FinCEN) report has exposed the involvement of Indian banks in the Suspicious Activity related to terrorism.
While signifying India as the hub of dirty money, the report disclosed: "44 Indian banks, including the state-owned banks, have been tagged as the financial institutions of the country connected to transactions by the Indian institutions and persons in suspicious Activity Reports (SARs) filed by the watchdog agency FinCEN".
"The entities and individuals were involved in money laundering of $1.53 billion through 3,201 illegal and suspicious transactions between 2011 and 2017m", as per the report.
Statistics assembled by the International Consortium of Investigative Journalism (ICIJ) from the SARs filed by US banks expose that the flag transactions carried by the Indian banks have related to activities such as money laundering, terrorism and drugs especially in the region.
Interestingly, the Indian government keen to see Pakistan on the FATF blacklist themselves must now be in hot water in view of the appearance of this latest FinCEN report.
Therefore, rather than targeting Pakistan as a double standard, the West-led FATF must review India's role in money laundering and financing of other terrorism-related issues.
Certainly, we can conclude that after abortive efforts to push Pakistan to the FATF blacklist over accusations of money laundering and terror financing, India has been caught red-handed.