Indian pilot Abhinandan's release: A clear message for peace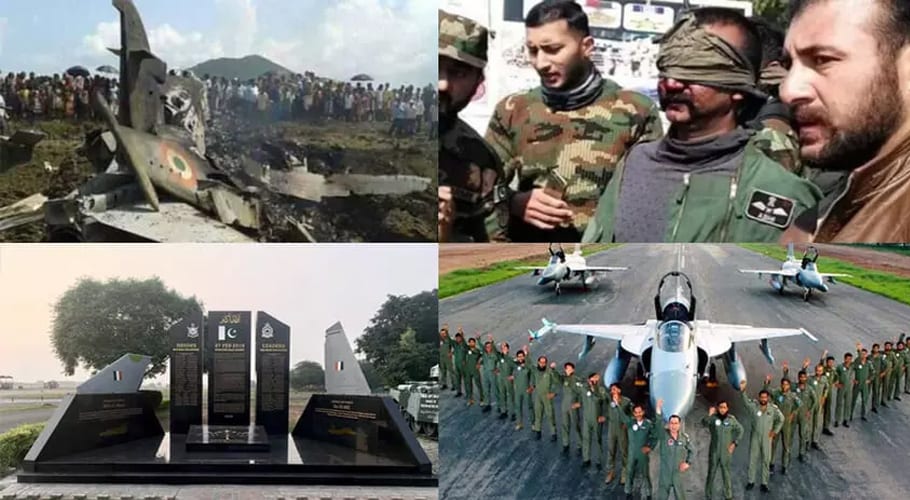 Pakistan is celebrating 'Surprise Day' on Saturday to pay tribute to Pakistan Air Force (PAF) for their brave defense of the homeland while striking down two Indian fighter jets on 27 February 2019.
On this day two years ago, the valiant fighters of PAF carried out Operation Swift Retort and shot down Indian Air Force MiG-21 and Su-30, and dropped bombs within the compounds of Indian army facilities in occupied Kashmir as a warning to the country's belligerent neighbor.
It was a unique event of any kind between any two countries, especially Pakistan and India, when the Indian Army Commander, who was captured by the Pakistan Army, just gave Nandan a warm welcome, gave him tea and the words of 'Fantastic Tea' uttered Nandan circulated around the world.
However, Pakistan later released Indian pilot Nandan, confirming the importance of the fact that Pakistan is a peace-loving country and today Surprise Day is being observed to commemorate all these events. Let's take a look at the significance of the Day and other aspects of Operation Swift Retort.
Operation Swift Retort
On the morning of Feb 27, roaring PAF warplanes struck around key targets in Indian Occupied Jammu and Kashmir in broad daylight and shot down two Indian fighter jets in a dogfight that ensued after they attempted to intrude into Pakistani airspace again.
Operation Swift Retort was a rapid response to the Indian Air Force strike in Balakot that had only damaged a few trees and injured a wild crow. The former pilot Wing Commander Abhinandan Varthaman was also arrested by Pakistani soldiers after his ejection into the Pakistani side of the line of control.
Abhinandan was roundly beaten up by an angry mob of locals where the Pakistan Army rescued him and was later handed over to India as a peace gesture.
Diplomatic front
Shortly after being rescued by the Pakistan army, Abhinandan became the face of India and Pakistan's conflict and a major prize in a geopolitical variance between two challengers.
However, despite India's purposeful aggravation, in this case, the Indian pilot was not only treated with dignity by Pakistani forces, but he was also handed over to India after a brief imprisonment.
By handing over pilot Abhinandan, Pakistan clearly changed the narrative. It sent a clear message to Indian authorities and the rest of the world that in spite of Modi's hostile attitude, PM Imran was interested in investing in peace.
Provocation after Abhinandan's release
Since 2000, Pakistan has faced more than 20,000 terrorist attacks on its soil and suffered 84,000 casualties, in addition to the economic losses of $129 billion, according to a report by Pakistan's foreign office.
Pakistan also exposed New Delhi to conducting "false flag" operations in disputed Jammu and Kashmir, and inside India to "malign" Pakistan. Pakistan's alertness and yeomen service is done by ISI, counted among the world's best, lifted the facade from Indian face.
India helplessly saw two of its combat aircraft shot down by the Pakistan Air Force, one of which fell in Pakistani territory, but it's pilot Abhinandan, later freed by the Pakistani army as a gesture of goodwill, but Indian response continued by negative.
Indian minister Surendra Jait Singh and other former military officials termed the Indian Air Force operation in Balakot a failure and said that Indian propaganda was baseless.
A desire for peace must not be misunderstood
On the occasion of the second anniversary of 'Operation Swift Retort, Chief of Air Staff Air Chief Marshal Mujahid Anwar Khan has cautioned that Pakistan's desire for peace should not be misunderstood.
The PAF chief termed February 27 as an important day not just for the Pakistan Air Force but for the whole of Pakistan. He said on February 27 Pakistan Air Force once again upheld its magnificent legacy and deterred the aggressor who seriously miscalculated and challenged our sovereignty.
Mujahid Anwar Khan reiterated that our country and its military were responsible and peace-loving and its efforts for international peace, especially in Afghanistan, the Middle East and in UN peacekeeping missions were being recognized internationally.
A clear message for India
The entire world witnessed that Pakistan, once again, not merely resolutely defended its territorial sovereignty, but also acted with wonderful restraint and responsibility.
The Indian civil and military leaderships need to realise that offensive anti-Pakistan statements and actions serve no purpose other than affecting regional peace and stability. Conceivably India should ponder at the myriad of its own issues rather than opening a new front against Pakistan.
They should recall the consequence of their Balakot adventurism which lead to Indian Wing Commander Abhinandan being captured and their million-dollar MiG-21 aircraft being destroyed.