IHC set to hear Zardari, Talpur's bail pleas today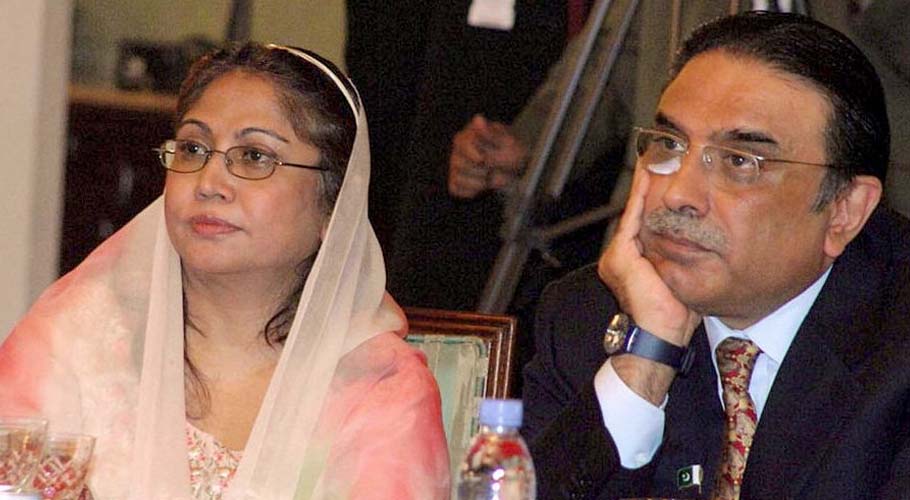 ISLAMABAD: Islamabad High Court comprising Chief Justice Athar Minallah and Justice Aamer Farooq will hear today (Wednesday) a petition of Pakistan Peoples Party (PPP) Co-chairman Asif Ali Zardari, who has sought bail on medical grounds.
Earlier in the day, Zardari filed a bail plea on medical grounds whereas Talpur sought bail from the same court while pleading that she is the mother of a differently-abled child, and therefore she needs to take care of that child.
The former president, who was arrested in June this year for his alleged role in a multi-billion rupees money laundering case, moved the court on Tuesday over a month after the former premier Nawaz Sharif was given similar relief.
READ MORE: Fake bank case: Zardari files bail petition in IHC on medical grounds
The government later also permitted Nawaz to fly abroad for treatment.
Currently under treatment at the Pakistan Institute of Medical Sciences (PIMS) hospital in Islamabad, Zardari has moved the petition through his lawyer Farooq H Naek and nominated the National Accountability Bureau (NAB) and Islamabad Accountability Court-II as respondents.
The petition says Zardari has been suffering from multiple diseases — like diabetes, cervical lumbar and spondylosis, sensory and motor neuropathy with impaired proprioception.
According to the petition, Zardari has a Holter monitor attached to his chest, enabling doctors to check and note variations in his heartbeat and blockages in his arteries.
It also notes that Zardari is a patient of ischemic heart disease, which means his heart may have an inadequate supply of blood and oxygen.
The petition also states that Zardari suffers from arthritis with a low platelet count, and all these illnesses cannot be treated within the premises of the jail.
"The petitioners' condition makes it evident that his continued incarceration would prove detrimental to his life."
READ ALSO: Bilawal demands Asif Zardari's bail on medical grounds
It says the former president requires around the clock attention and with his deteriorating health, his life may be at risk.
The petition states that Zardari has been in jail since October 22, 2019, and has not shown any signs of improvement.
"The petitioner has spent his entire life in the service of the people of Pakistan and has struggled so much for Pakistan that he has lost his health in the process."
The petition, while claiming that the former president is being victimized due to political reasons and has been wrongly implicated in false and fabricated cases.
Zardari's lawyer requests  the court to grant him post-arrest bail on medical grounds in Park Lane reference which is connected with the money laundering case.
Zardari's sister, Faryal Talpur, who is also under custody in connection with the same case, has also sought bail though on basis of a different ground.
She claims that she had been arrested by NAB on June 14 but the accountability watchdog has not been able to prove anything against her during its five months investigation, adding that she could not be left at the mercy of jail officials.
READ MORE: Fake bank case: Zardari, Talpur's judicial remand extended till Dec
Earlier, an accountability court rejected Zardari's petition to transfer him to Karachi for medical treatment.
During the hearing, Zardari's lawyer Sardar Latif Khosa requested the court to shift the case to Karachi for better medical treatment, adding that Zardari's entire medical history is in Karachi.