Four jailed for illegally hunting snow leopard in GB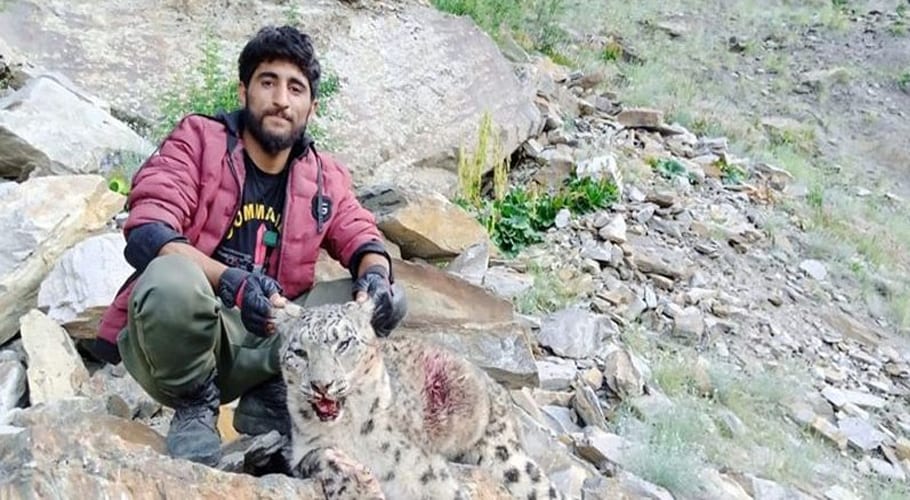 GILGIT BALTISTAN: Four people were jailed for illegally hunting a snow leopard in Nagar district of Gilgit-Baltistan (GB).
According to a GB Wildlife Department, hunter Saleem and his accomplice Muhammad, residents of Hopar Nagar, and two others were apprehended with the help of police and FC after the incident was brought to their notice.
The official further said a team of Hunza Nagar Forest and Wildlife Department conducted a successful raid in the Hopar area of Nagar and arrested all the culprits for illegally hunting the leopard, a rare species in the Karakoram mountain range.
After completion of the investigation, they were produced in the court of Hunza Nagar, Wildlife Magistrate Gibran Haider.
According to the official, of the four convicts, two were jailed for two years with a fine of 0.5 million each and the other two were jailed for one year with a fine on each.
According to accused Saleem, the leopard was living with her two cubs near the glacier and that they had released the cubs after killing the leopard.
Sources said Mohammad Saleem uploaded pictures of the leopard on social media after it was killed. 
The female snow leopard was killed while her two cubs disappeared, sources said, adding that the wildlife team was able to recover the skin of the killed leopard; a search operation was put underway to trace the missing cubs.
WWF officials said that this rare species plays a key role as both a top predator and an indicator of the health of the high altitude habitat. Snow leopards are mostly found in mountainous areas of Pakistan's northern areas including Gilgit-Baltistan.
Wildlife experts have expressed concern over an alarming decline in the population of snow leopards in Pakistan, citing climate change and lack of eco-friendly tourism as the leading factors behind threats to the species.
Snow leopard's favored prey is herbivores, such as blue sheep, Argali sheep and ibex. In many areas, snow leopards also prey on livestock, bringing them into conflict with herders.