Egypt train crash leaves 32 dead, over 66 injured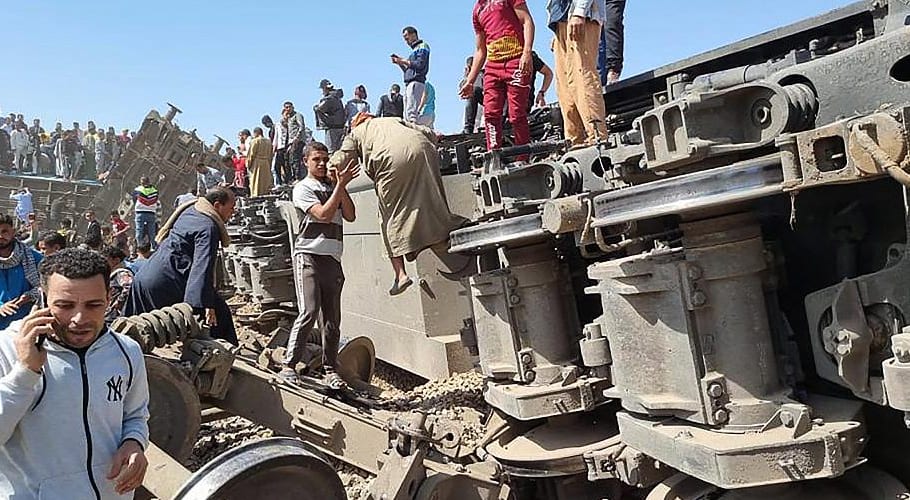 CAIRO: At least 32 people were killed and more than 66 injured when two trains collided in southern Egypt on Friday.
The health ministry of the country in a statement said dozens of ambulances rushed to the scene in the Tahta district of Sohag province, some 460 kilometers (285 miles) south of the capital Cairo after a deadly rail accident reported.
The ministry said 32 people were killed and more than 66 injured. The injured were transported to different hospitals, the statement said. Videos taken by witnesses showed panicked citizens and police trying to free passengers trapped in the crumpled wagons, some of which had been flipped upside down or lay on their side.
Meanwhile, President Abdel-Fattah al-Sisi expressed his condolences to the families of the killed and wounded promising them compensation and to bring those responsible to justice. "The pain that tears our hearts today cannot but make us more determined to end this type of disaster," he tweeted.
وإنني إذ أتوجه بكامل العزاء لأسر الشهداء الذين لقوا ربهم اليوم، أقدم لأسر المصابين كامل المواساة والدعم وأمنياتي بالشفاء العاجل إن شاء الله.
وأوجه الأجهزة المعنية باتخاذ كافة الإجراءات اللازمة وتوفير التعويض اللائق لأسر الشهداء والضحايا.
٣/٣

— Abdelfattah Elsisi (@AlsisiOfficial) March 26, 2021
The president also said he had sent the prime minister and relevant ministers to the site of the crash to oversee an immediate investigation. Train crashes and disasters are common in Egypt where the crumbling transport network is woefully neglected and unfunded.
ولقد وجهت رئاسة الوزراء وكافة الأجهزة المعنية بالتواجد بموقع الحادث والمتابعة المستمرة وموافاتي بكافة التطورات والتقارير المتعلقة بالموقف على مدار اللحظة. على أن ينال الجزاء الرادع كل من تسبب في هذا الحادث الأليم بإهمال أو بفساد أو بسواه، دون استثناء ولا تلكؤ ولا مماطلة.
٢/٣

— Abdelfattah Elsisi (@AlsisiOfficial) March 26, 2021
Egypt has been plagued with deadly train accidents in recent years that have been widely blamed on inadequate infrastructure and poor maintenance.
One of the deadliest occurred in 2002 when 373 people died as a fire ripped through a crowded train south of Cairo, and there have been many fatal crashes since.
At least 13 people were injured when two passenger trains collided in Cairo, triggering a brief suspension of rail services nationwide in March last year.
At the time rail managers blamed the crash on signals not functioning in bad weather. In another incident, a train derailed and caught fire at Cairo's main railway station killing more than 20 people and prompting the transport minister to resign in February 2019.