Dr Panjwani center conducts 80,000 coronavirus tests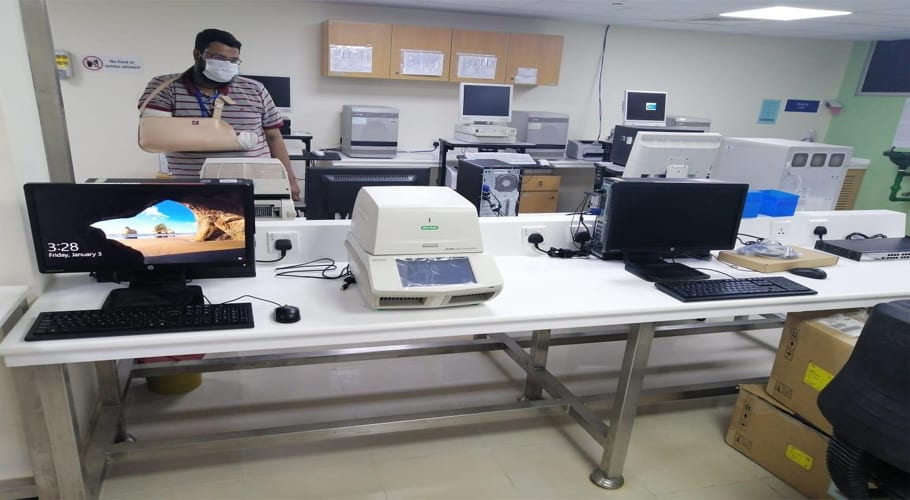 KARACHI: Dr. Panjwani Center for Molecular Medicine and Drug Research (PCMD) at the University of Karachi has proved its research excellence and capacity by performing more than 80,000 high-quality coronavirus PCR-based tests in the ongoing pandemic.
Prof. Dr. M. Iqbal Choudhary, Director of ICCBS while speaking at the meeting of virology experts held at the National Institute of Virology said that Dr. Panjwani center showed its excellence and superiority by conducting coronavirus tests in such great numbers during the limited time period of a few months.
"Currently, the center is conducting over 1000 tests every day with only 18 hrs reporting time. The researchers and staff of the center deserve appreciation and applause as they did this national service by carrying out massive diagnostic work in 24/7", he added.
"This very high-quality lab equipped with state of the art technology, where well-trained highly qualified staff engaged in research work", he said.
He said the laboratory also ensures the safety of the staff by the regular periodic screening of all the staff.
Choudhary
 mentioned the BSL-III facility is designed as per international standards set by and WHO (Guidelines on Establishment of Virology Laboratory in Developing Countries), adding that the diagnostic capacity of Covid-19 infection has immensely been widened in the province.
The BSL-III facility owns the capability to conduct experiments involving live viruses, anti-viral screening activities of several compounds and testing vaccine candidates for their immune reactivity, he said.
The National Institute of Virology has various state of the art RT-PCR machines and trained personnel. Dr. Panjwani center has really set an excellent example of helping the national health care system at the time of national health emergency, he added.
Earlier, the Sindh government had provided generous financial support for the completion of the Biosafety Level-III (BSL-III) laboratory at the PCMD's National Institute of Virology (PCMD).  Chief Minister Sindh and the Minister of Health had visited the NIV in May to encourage the outstanding team.