Double-decker tour bus makes trial run between Islamabad, Rawalpindi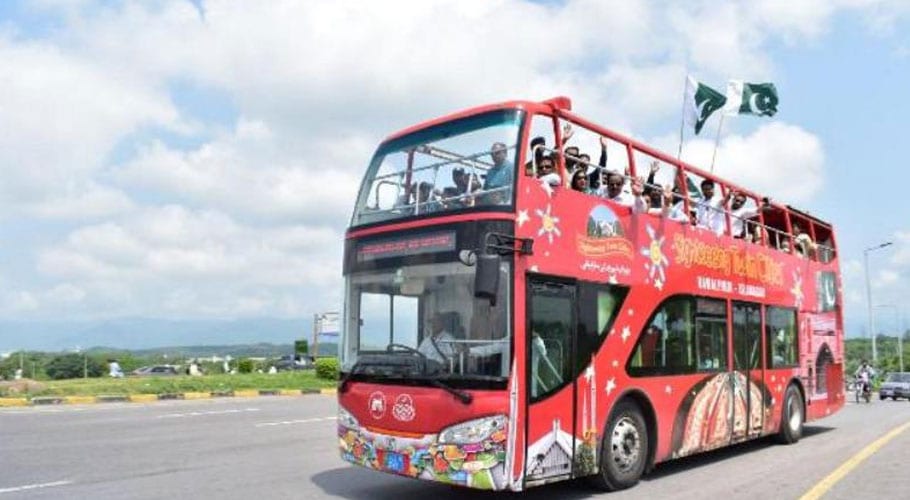 RAWALPINDI: On the special directives of Chief Minister Punjab Usman Buzdar, a double-decker tour bus began a test drive between twin cities ahead of its official launch later this month.
The Punjab Tourism Development Corporation with the coordination of Parks and Horticulture Authority (PHA) started a test drive of double-decker bus service.
Addressing the participants, the Advisor to CM Punjab for Horticulture and Tourism Asif Mehmood said that the double-decker bus service would be started next week in twin cities.
He informed that the provincial tourism development corporation will operate the buses adding that the construction work of the main terminal at Allama Iqbal Park double road has entered the final stage.  
"The objective of the service is to promote tourism; to invite local and foreign tourists to enjoy the culture and scenery of the twin cities," he added.
Each bus can carry 40 passengers and its fare is Rs400. Children under five and people with disabilities will ride for free. Travel guides on board with inform people about the history of the places.
The bus will visit Faysal Mosque, the Islamabad Zoo, Daman-e-Koh, Saidpur Village, Parliament House, the Supreme Court, Lok Virsa, and the National Museum.