DG Khan accident: PM expresses condolences to family of victims
ISLAMABAD: Prime Minister Imran Khan has expressed sorrow over the tragic accident in Dera Ghazi Khan in which the death toll rose to 33.
According to details, a bus and a trailer collided in Dera Ghazi Khan yesterday, killing 33 people and injuring more than 30. The death toll is expected to rise as the condition of several people is critical.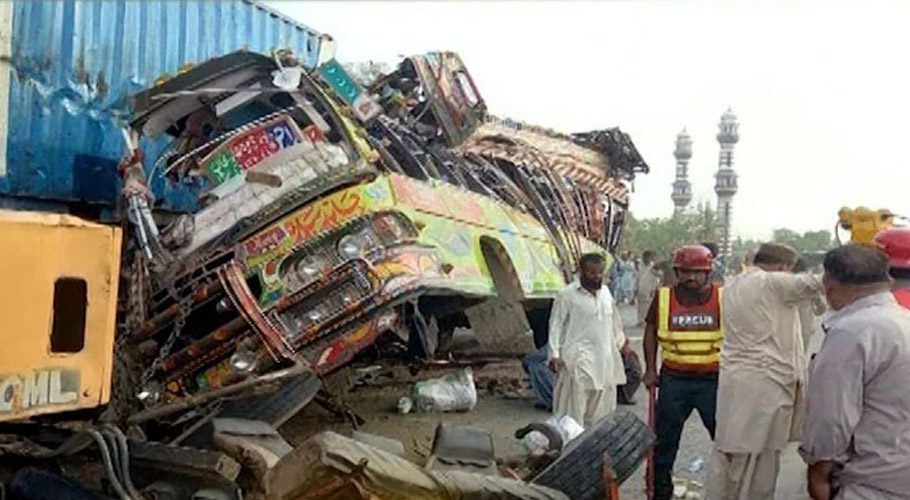 Rescue workers and law enforcement officials rushed to the scene after the tragic accident in Dera Ghazi Khan. Rescue operations are still ongoing and an emergency was declared in the hospitals.
The injured had to be evacuated by cutting off parts of the bus. The passenger bus was traveling from Sialkot to Rajanpur when it collided. Most of the passengers were on their way home to celebrate Eid.
Other federal and provincial ministers and political and social figures, including Prime Minister Imran Khan and Interior Minister Sheikh Rashid Ahmed, have expressed regret over the DG Khan accident. The prime minister said that he was sorry for the loss of precious lives.
The Punjab government has mobilized after the accident and all possible assistance is being provided for relief activities. PM Imran Khan directed the Punjab Chief Minister to provide the best medical facilities to the injured.
Victims' family was devastated
The accident in DG Khan, Punjab province, left the family stranded. The accident darkened the life of Khadim Hussain, whose son was seriously injured in the accident.
As a result of a terrible accident, three brothers who were going to Rajanpur to celebrate Eid with their relatives died yesterday. Khadim Hussain's son is being treated in hospital in critical condition.
Khadim Hussain said that her two sons got married after Eid. The four brothers were on their way to their hometown from Sialkot to celebrate Eid. The accident took away the joys of Eid and marriage.
Yesterday, rescue sources said that the bus and trailer were damaged as a result of the accident that took place on Taunsa Road. The death toll is expected to rise as the condition of the injured is critical.