DG College Sindh writes to FIA against fake website offering admissions
Karachi: A fake online website has been activated to cheat students in the name of admission in colleges across Sindh, Director General Colleges Sindh has written to FIA Cyber ​​Crime Circle Karachi to take action against the fake website.
There is seccap.dgcs.gos.pk at the official level for the admission of male and female students in colleges across Sindh through which male and female students submit the online form and become eligible for admission in any of the selected colleges. However, after the announcement of the admission policy by the Director General of Colleges, an online website named http://www.educaated.pk has also been activated, for which DG Colleges has identified FIA Cyber ​​Crime Circle Karachi.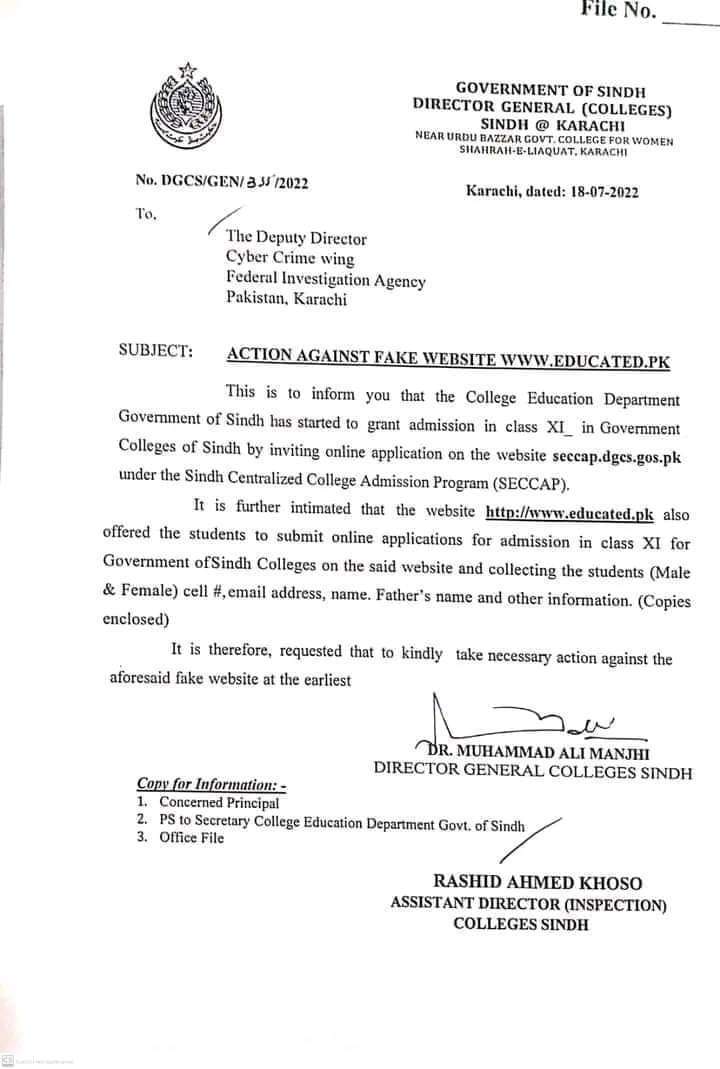 It has been said in the letter that this website is fake and the students will be cheated and money will be extracted from the students through forgery and the students will also lose admission in the colleges. According to DG Colleges, all information including children's mobile numbers, email addresses, photos, parents' names are being obtained on this website, which is dangerous for children and their parents.
For this, FIA Cybercrime Circle should identify the persons involved in forgery and action should be taken against them. Department of Colleges Sindh has instructed all the students to fill the online form for admission to class 11 on the authentic websites http://seccap.dgcs.gos and stay away from similar websites. .