DEFCLAREA stages demo against new taxes on real estate sector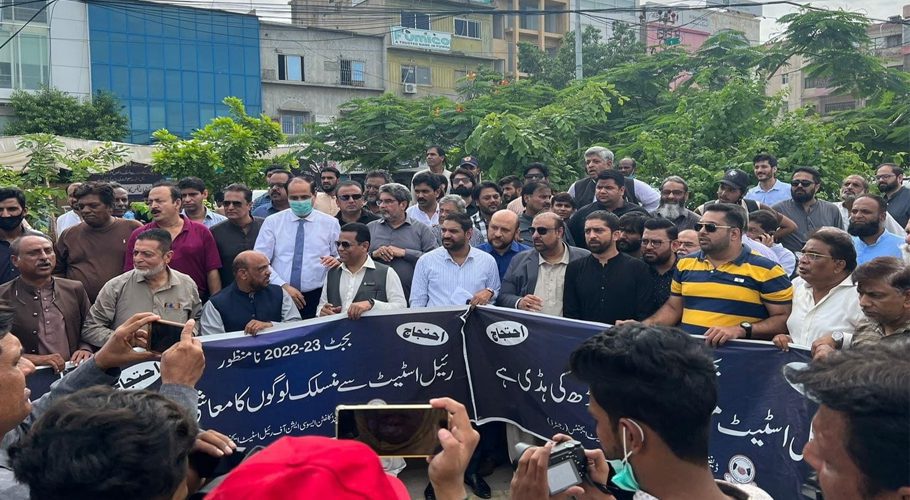 KARACHI: Defense and Clifton Association of Real Estate Agents (DEFCLAREA) staged a protest demonstration against the imposition of various new taxes on the real estate sector in the budget 2022-23.
The demonstration held in Defense Area on Saturday was attended by a large number of real estate agents and other people related to the estate business. They expressed their concern over the new taxes and called it a disaster for the real estate sector. They said that the increase in advance tax by the present government is an injustice.
On this occasion, the President of the Association Mr. Zubair Baig, and General Secretary Muhammad Imtiaz Siddiqui, while talking to the media, said that the current government has abolished the prevailing slab of Capital Gain Tax and extended the Holding Period from 4 years to 6 years, while the gain tax which used to be zero after 4 years has been imposed for Unlimited Time.
 "This increase is not only cruel but it will also reduce people's confidence in the government. Because people plan their investment after the announcement of the government policies'', they added.
They expressed serious concern over the implementation of DEEMED RENTAL INCOME TAX by the government and said that it is actually a modified form of wealth tax. "When a person buys a property, he pays Income Tax on his income while paying additional taxes and transfer fees to the federal, provincial, and local bodies/societies on account of various taxes at the time of purchase. If it does not construct, then it pays a fee to the societies in the form of NUF (Non-Utilization Fees). Now after that, he has to pay more DEEMED RENTAL INCOME TAX every year on holding the property which is assessed on a notional rental income which falls under the category of double taxation."
"Moreover, this tax has also been levied on unconstructed houses and plots, the houses which have not yet been constructed, the government has imposed a tax on them by considering them as rental income'', they added.
They further said that earlier there was 1% advance tax and 1% gain tax on property purchase, which had now been doubled and for non-filers, the situation had been made very tough. So in this situation, no one is willing to invest in the real estate sector due to this tax burden in unfavorable conditions.
 "Real estate agents earn billions of rupees revenue to the government every year, while it is also a source of investment of 15 to 20 billion dollars from overseas Pakistanis. They are paying board tax to local bodies, property tax to provincial bodies, service tax and professional tax, and income tax to the federal government. Now the finance minister has imposed another cruel tax through the electricity bill."
 The real estate representatives said that recently, on the government's request to remove Pakistan from FATF's Gray List, all estate agents have registered themselves as DNFBP (Designated Non-Financial Business and Professions). They are also identifying investments and providing all kinds of support to their government.
"Our demand is that the tax rate increase and new taxes announced in the budget 2022-23 should be withdrawn immediately and the same taxes that were in effect before this budget should be collected from this sector'', the concluded.