Custom foils smuggling bid at Lahore airport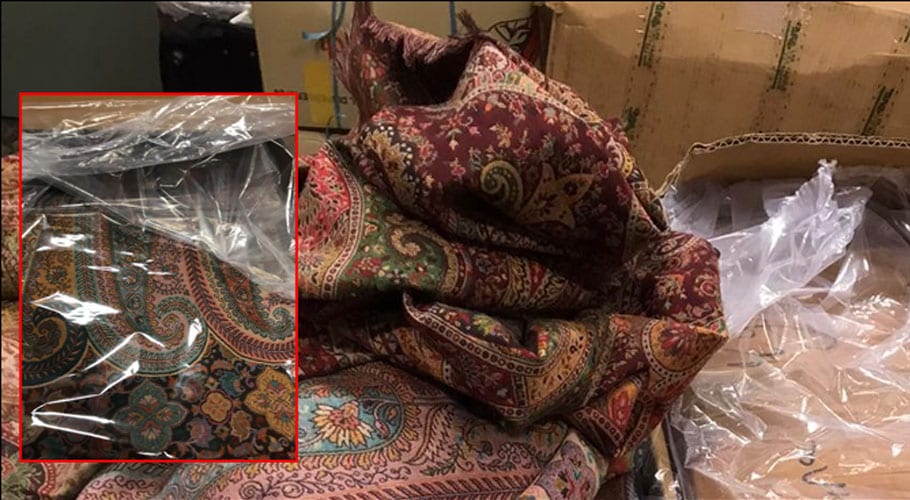 LAHORE: Custom officials have foiled a bid to smuggle expensive shawls and arrested a foreign woman at the Allama Iqbal International Airport, Lahore on Saturday.
According to sources, the Customs officials recovered 240 expensive shawls from the baggage of a woman during the checking process.
Deputy Collector of Custom Saqib Warraich said that a woman, who traveled from a private airline flight from Dubai, PA 417, was caught red-handed at the airport while trying to smuggle shawls, made up of expensive and fancy material, in the country.
The shawls recovered during the checking process worth more than Rs 1 million, he said. The Customs officials in a separate action today, seized smuggled items worth up to Rs 4 million at the Lahore airport.
The items included non-custom-paid mobiles and other items were recovered from the baggage of two passengers. They were traveling from Dubai to Lahore, the deputy collector of Customs said, adding that a probe into the matter is underway.
On October 2,  Model Customs Collectorate (MCC) in Gwadar had foiled an attempt to smuggle narcotics in the country worth around Rs1.6 billion, considered one of the biggest drug busts in several years.
While acting on the directives of Chief Collector Customs Balochistan against anti-trafficking, Collector Customs Gwadar Dr Tahir Qureshi issued orders to make all available resources and intelligence network fully functional and effective in order to curb the menace.
A few days ago, a tip-off was received that an attempt was being made to smuggle heroin from Gwadar to other parts of the country. Upon receiving information, a special team was formed under the supervision of Additional Collector Customs Ghulam Haider Mehsar including other field officers and staff.
The special team was stationed at Kharari check post and increased patrolling and more effective search of inland bound cargo trucks and buses on the RCD Highway.