Coronavirus claims 131 more lives, infects 5,112 in Pakistan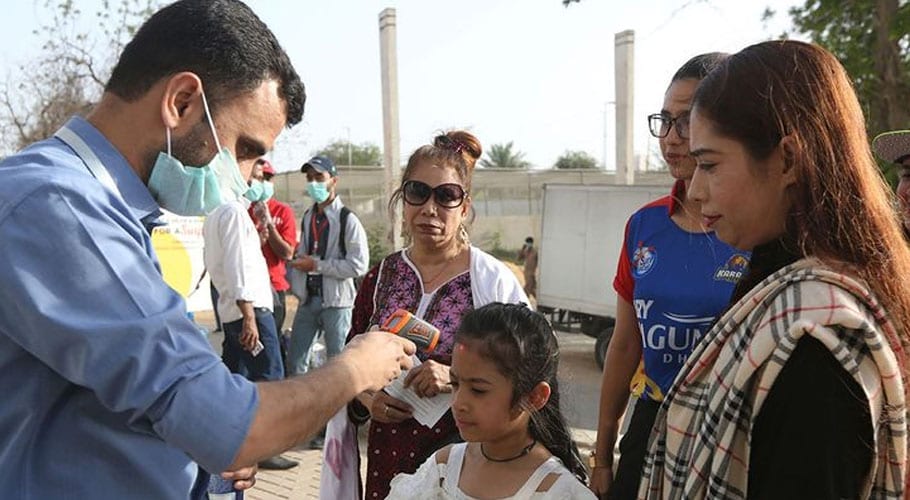 ISLAMABAD: The coronavirus has claimed 131 more lives and infected 5,112 during the past 24 hours in Pakistan on Friday.
According to the latest figures issued by the National Command and Operation Center (NCOC), Pakistan reported 131 more COVID deaths in the past 24 hours, pushing the nationwide tally of fatalities to 17,811.  
NCOC said 5,112 persons were tested positive for coronavirus during the last 24 hours, pushing the number of positive cases to 820,823. The health officials have conducted 49,099 tests in the past 24 hours out of which 5,112 persons were tested positive for the disease.
The recovery of the COVID patients is on the rise as many as 711,465 have regained their health from a disease, with 3,272 people in the past 24 hours, while 5,360 patients are still battling for their lives at the country's various hospitals.
Overall 11,788,126 tests have been conducted so far to detect the deadly virus. The COVID positivity ratio was recorded at 10.41 percent during the last 24 hours.
Punjab remains the worst-hit province by the pandemic both in terms of cases as well as deaths followed by Sindh, Khyber Pakhtunkhwa and Balochistan.
Till now 301,114 coronavirus cases have been confirmed in Punjab, 282,445 in Sindh, 117,557 in Khyber Pakhtunkhwa, 22,278 in Balochistan, 75,067 in Islamabad, 17,057 in Azad Kashmir and 5,305 in Gilgit-Baltistan.
Furthermore, 8,410 individuals have lost their lives to the epidemic in Punjab, 4,633 in Sindh, 3,274 in KP, 234 in Balochistan, 679 in Islamabad, 475 in Azad Kashmir and 106 in GB.
Amid the surging cases, the government is mulling over imposing a lockdown in 20 cities from 2/3 May ahead of the Eid-ul-Fitr holidays. A list mentioned 20 cities across Punjab, Sindh, Khyber Pakhtunkhwa, Azad Jammu and Kashmir, where the coronavirus situation has worsened and the restrictions imposed by the authorities have failed to control the virus spread.
The cities where the lockdown might be imposed include Islamabad, Rawalpindi, Lahore, Multan, Faisalabad, Gujranwala, Bahawalpur, Hyderabad, Peshawar, Dir Lower, Mardan, Nowshera, Malakand, Charsadda, Swat, Swabi, Muzaffarabad, Sudhnuti, Poonch, and Bagh. The NCOC has directed the local administration to forward their input for necessary action.