Can Imran Khan prove 'foreign conspiracy' against his govt?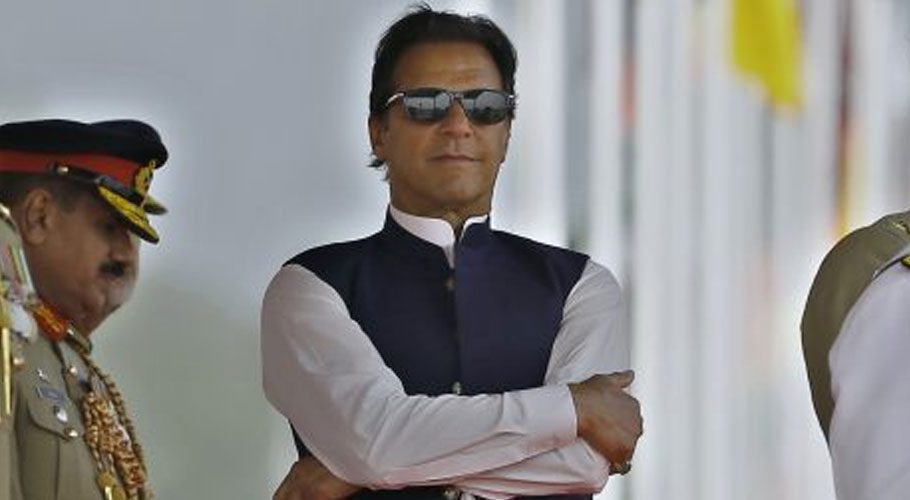 In the early hours of April 10, Imran Khan became the first prime minister in the history of Pakistan to lose office through a parliamentary no-confidence vote.
The party and its leader, Imran Khan – until recently the country's prime minister – are still claiming that what happened was not just a loss of majority due to some of the lawmakers' change of sides. What caused this treachery, they claim, was a 'foreign conspiracy' to topple the Khan government.
However, the DG ISPR's yesterday press conference will act as a cold press on some of the more worrisome narratives shoe-horned into our political discourse over the past few weeks.  
The foreign conspiracy
Earlier in March, Imran Khan – who was prime minister at that time –claimed that the opposition's no-trust move was part of an alleged "foreign-funded conspiracy" hatched against his government over his refusal to have Pakistan's foreign policy be influenced from abroad.
He made these allegations at his party's power show titled Amr Bil Maroof (enjoin the good) and billed as a "historic" event at Parade Ground in Islamabad.
"Attempts are being made to influence our foreign policy from abroad. We have been aware of this conspiracy for months. We also know about those who have assembled the opposition parties but the time has changed. This is not the era of Zulfikar Ali Bhutto," he said.  Later, in an apparent slip of the tongue, Imran Khan revealed the name of the United States as the country behind a "threat letter".
According to Khan, the Americans toppled his government because he refused to cancel his late February visit to Moscow. Former Foreign Minister Shah Mahmood Qureshi also claimed that the US national security advisor made a call to his Pakistani counterpart asking Islamabad to cancel the visit.
On April 3, as soon as it became clear that lawmakers were prepared to oust him, he tried dissolving the national assembly in what some have called a "civilian coup." But it didn't work. In the days that followed, the supreme court foiled this attempt by restoring the assembly and ordering a fresh no-confidence vote, which finally led to his downfall.
DG ISPR's statement
Inter-Services Public Relations (ISPR) Director General (DG) Maj Gen Babar Iftikhar has made it quite clear that the security apparatus does not believe there is any imminent threat to national security or credible evidence of an international conspiracy through which Imran Khan was ousted.
"The words used in NSC statement are clear. Is there any word such as conspiracy used in it? I think not," Babar Iftikhar said while addressing a press conference in Rawalpindi.
Other 'clarifications' have also been provided, such as the assertion that the army never gave Mr Khan any 'options' in the lead-up to his ouster; only discussed the different scenarios he would face.
The DG ISPR also rubbished reports that the army chief had met opposition leaders ahead of the vote, as well as a story that suggested that he had paid a tense visit to Mr Khan hours before the latter lost his government.
Interference vs conspiracy?
Within a couple of hours after Pakistan military spokesperson Iftikhar Babar said that the National Security Committee (NSC) statement did not contain the word 'conspiracy,' Pakistanis have been found wrestling over two words: conspiracy and interference.
PTI leaders, including Fawad Chaudhry, say that the NSC statement contains — and it indeed does — the word 'interference' which they claim was synonymous with conspiracy.
The PML-N and its allies have repeatedly underscored that the NSC statement contained no reference to the no-confidence vote, so it was misleading to exploit the statement to justify the NA deputy speaker's ruling against the vote.
Dr Asim Allah Bakhsh, a well-known author, gave the following definitions in a tweet:
Interference: Pakistan saying they will like Donald Trump to be winning the election.
Conspiracy: Pakistan actually manipulating US elections to make Donald Trump win the election.
Inquiry into letter
In his first speech after becoming prime minister, Sharif told Parliament that he will convene a meeting of the national security committee as soon as possible. He will ask all stakeholders to produce evidence about the foreign conspiracy. If the allegations are proved true, Sharif said, he will resign from office.
PM Shehbaz in his speech accused the former ruling party, Pakistan Tehreek-e-Insaf, of staging a drama in the country and churning lies over a purported foreign letter. He wondered as to why, despite an announcement by the former speaker of the assembly, no one had brought the letter to him to see it.