Bullish trend continues at PSX as KSE-100 index gains 231 points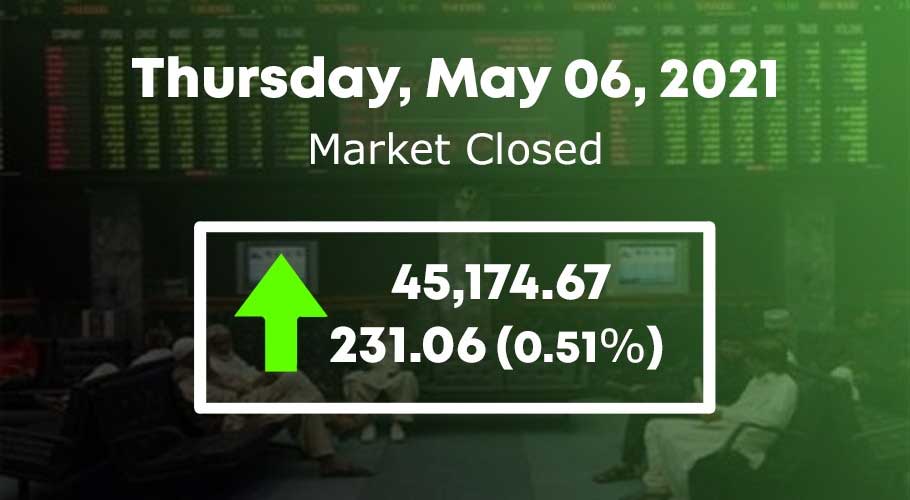 KARACHI: Stocks today (Thursday) extended their bullish stance to the third trading day of the rollover week as benchmark index rose 231 points owing to investor focus on selected sectors.
Trading began on a positive note, however, investors resorted to profit-booking in initial hours, which dragged the index down. However, a buying spree, emerging towards noon, tossed the index in the green zone.
At close, the benchmark KSE-100 index recorded an increase of 231.06 points, or 0.51%, to settle at 45,174.67 points. Top contribution to total volumes came from WorldCall Telecom (+6.3%), TRG Pakistan (+2.1%), Telecard Limited (-0.3%), Unity Foods (+2.1%) and Ghani Global Holdings (+1.9%).
Overall trading volumes fell to 245.6 million shares compared with Wednesday's tally of 259.9 million. The value of shares traded during the day was Rs9.5 billion.
Shares of 358 companies were traded. At the end of the day, 231 stocks closed higher, 110 declined and 17 remained unchanged.
Bata (Pak) witnessed maximum increase of Rs110 per share, closing at Rs1790 followed by Pak TobaccoXD, share prices of which increased by Rs85, closing at Rs1390.
Gatron Ind recorded maximum decrease of Rs27.25 per share, closing at Rs511.75 whereas Mari PetroleumXD was runner up with the decrease of Rs16.38 per share, closing at Rs1503.38