British royal couple visits historic Badshahi Mosque during Lahore visit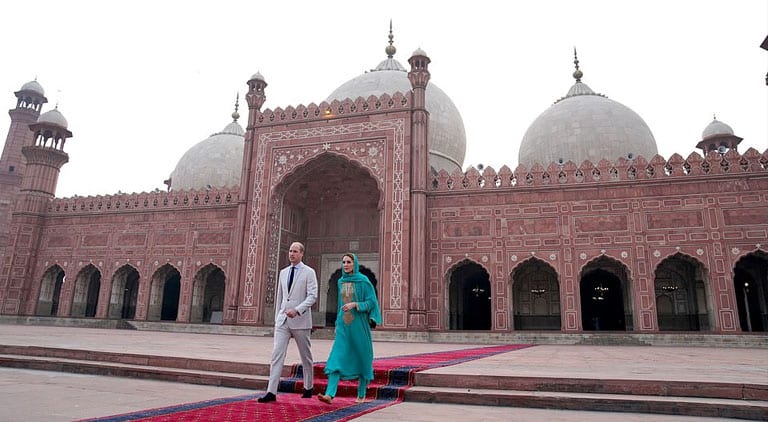 LAHORE: The Duke and Duchess of Cambridge Prince William and Kate Middleton visited the historical Badshahi mosque in Lahore as part a day-long visit.
They royal couple toured the mosque and the courtyard while going around various portions of the mosque. They admired the Mughal architecture.
The Imam of the Mosque Maulana Abdul Khabeer Azad briefed them about the various aspects of the mosque. They also listened to the recitation of the Holy Quran and then joined a discussion with religious leaders on promoting interfaith harmony.
The Badshahi Moque located within the Walled City was also visited by William's grandmother Queen Elizabeth when she was in the country with husband Prince Philip in 1961, and his mother Diana during her 1991 tour.
They were given a brief history of the building before being invited to sit down cross-legged with a group of religious leaders and specialists for a joining a discussion with faith leaders to understand how they are promoting interfaith harmony within their communities.
Those taking part in the discussion were Reverend Humphrey Sarfaraz Peters, the moderator of the Church of Pakistan and the Bishop of Peshawar, Azahar Ali Abidi, a Shia academic; Ramesh Singh, a member of the Pakistan Gurdwara Prabandhak Committee; Dr Ramesh Kumar, Patron in Chief of the Pakistan Hindu Council, and scholar Dr Ayesha Leghari.
William is understood to have asked a question of the group about how interfaith issues are promoted among young people. Honorary Consul to UK Fakir Aijaz Uddin accompanied them across the vast square leading to the central building.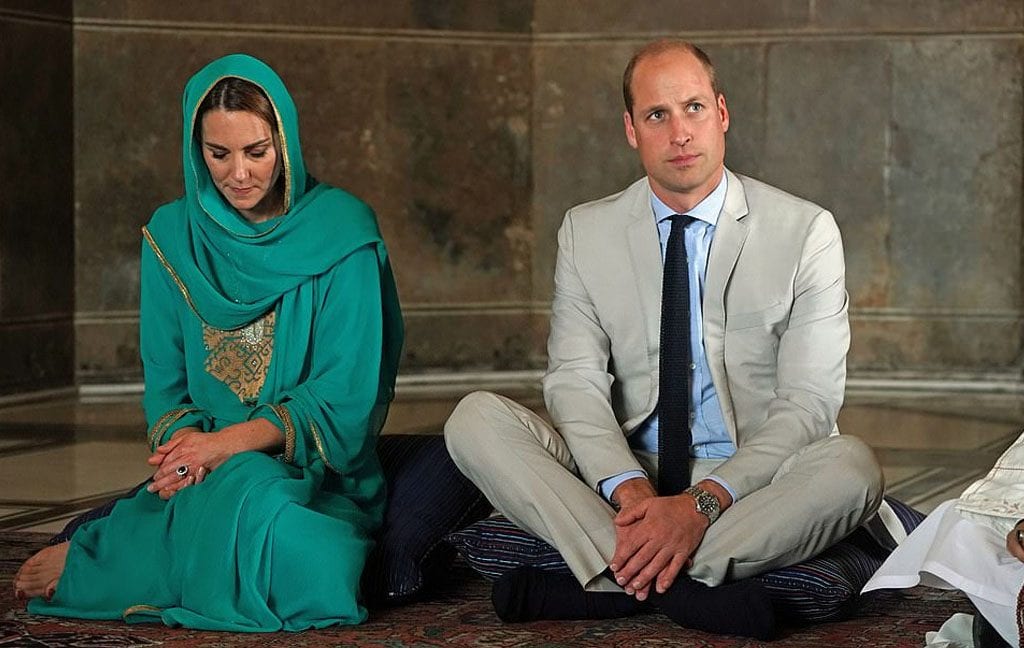 And the couple listen to Quranic prayer pic.twitter.com/RvvaAU3bpU

— Rebecca English (@RE_DailyMail) October 17, 2019
Later, the royal couple visited SOS Village and Cricket Academy in Lahore. They took part in a storytelling session and interacted with the staff and children.
Prince William and Middleton also attended a birthday party for three children at the SOS Village. The duchess spoke briefly at the event and wished the children 'Happy Birthday' in Urdu.
Afterwards, the duke and duchess went to the National Cricket Academy where both of them tried their hand at batting. After the game, the couple received some gifts including a cricket bat.
Earlier on their arrival on a day-long visit to Lahore, Punjab Governor Chaudhry Muhammad Sarwar and Chief Minister Usman Buzdar warmly welcomed them at Lahore airport.
CM Buzdar said Pakistan and UK are moving ahead together in journey of progress and prosperity. He expressed pleasure over the arrival of the royal couple in Lahore, and said the visit will further strengthen bilateral ties between the two countries.