British envoy collects two bags of litter during morning walk in Islamabad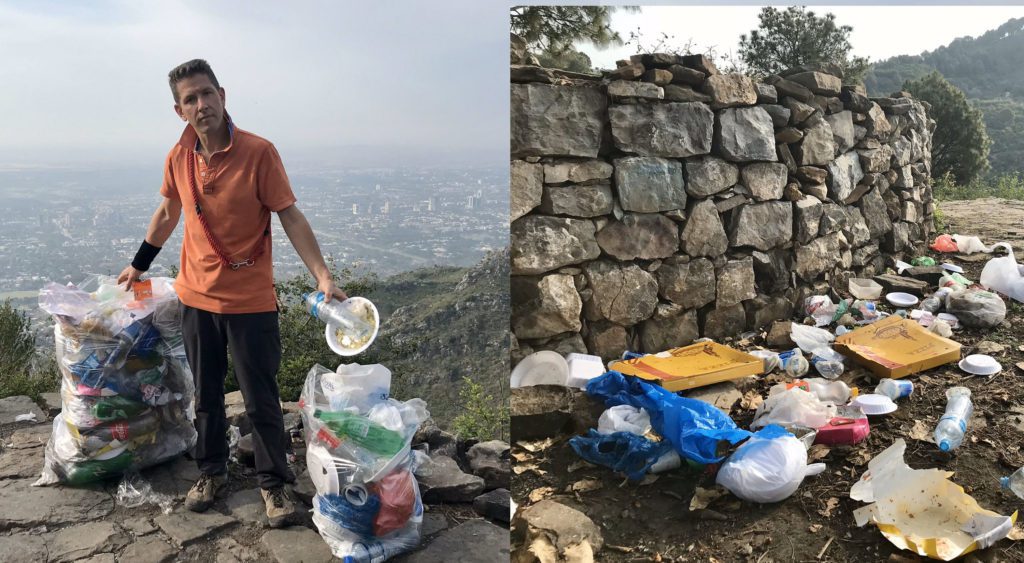 British High Commissioner to Pakistan Christian Turner, who went for a Friday morning walk in the federal capital, ended up collecting litter.
Christian Turner also shared a Hadith about cleanness that Safai nifs emaan hai "Cleanliness is half the faith (Emaan)". He also tagged DC Islamabad, Hamza Shafqat, and Clean Green PK. He collected two bags of litter.
Another #FridayMorningWalk, another two bags of litter. Safaai nisf imaan hai cc @dcislamabad @hamzashafqaat @CleanGreenPK pic.twitter.com/JknF3go0Hy

— Christian Turner (@CTurnerFCDO) May 7, 2021
Just after his tweet, people not even like and retweeted the post but also appreciated his efforts in the month of Holy Ramzan:
OMG – shocking.
And the complacency of people in Ramadhan.
Thank you for your efforts in highlighting this litter epidemic blighting a beautiful city.

— Dr Naveed Syed (@naveedsyed_) May 7, 2021
So many times I have seen people eat & then throw the box or leftover just about there, without making an effort to find a bin or looking for a bin to dispose of.

— B Akhtar (@B_Akhtar_01) May 7, 2021
Impressive quote of His Excellency Dr.Turner صفائی نصف ایمان ھے cleaniness is half of faith, A forgotten lesson of believer's.

— Ali Masarrat Mughal (@AliMasarratM) May 7, 2021
Many thanks for cleaning up the mess left behind by others. #Pakistan/#Islamabad has a serious waste management problem. We need to strengthen & empower LG.
IMO Children also need to be taught about civic responsibilities at home & schools at an early age. @dcislamabad

— Bushra Gohar (@BushraGohar) May 7, 2021
Thank you Christian, We really need a change of mind set and its high time the city govt started to do something.

— Khurram Qureshi (@sportsfounder) May 7, 2021