Benazir's countless and ineradicable imprints on history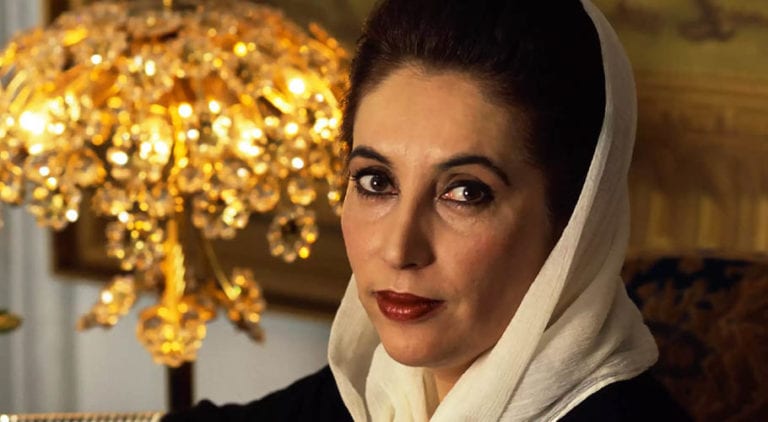 As the first elected woman prime minister of the "Muslim world", Shaheed Mohtarma Benazir Bhutto left countless and ineradicable imprints, and an impact on Pakistan's politics, economy, society, and the defense vision.
Benazir Bhutto was the first democratically elected female leader of a Muslim country during a tumultuous life that ended with her assassination on 27 December 2007.
Early life and Education
Benazir Bhutto was born on 21 June 1953 in Karachi, the eldest child of former premier Zulfikar Ali Bhutto. He founded the Pakistan People's Party (PPP) and was prime minister from 1971 to 1977.
After completing her early education in Pakistan, she pursued her higher education in the United States. From 1969 to 1973, she attended Radcliffe College, and then Harvard University, where she graduated with a B.A. degree in comparative government.
It was then onto the United Kingdom to study at Oxford from 1973 to 1977. There, she completed a course in International Law and Diplomacy.
She married a wealthy landowner, Asif Ali Zardari, in Karachi on December 18, 1987. The couple had three children: son Bilawal and two daughters, Bakhtawar and Aseefa.
After Zia ul-Haq became president in 1978, Zulfikar Ali Bhutto was hanged after his conviction on charges of authorizing the murder of an opponent. Since Benazir inherited her father's leadership of the PPP.
Political career
Shaheed Mohtarma Benazir Bhutto set the highest benchmark for politics of integrity and set great examples with struggles for democracy.
Zia ul-Haq's dictatorship ended when he was killed in a plane crash in 1988. And Benazir was elected prime minister barely three months after giving birth to her first child.
She became the first-ever female prime minister of a Muslim nation on December 1st, 1988.
She was defeated in the 1990 election and found herself in court defending herself against several charges of misconduct while in office.
Benazir continued to be a prominent focus of opposition discontent, and won a further election in 1993, but was replaced in 1996.
Self-imposed exile and Corruption charges
While in self-imposed exile in Britain and Dubai, she was convicted in 1999 of corruption and sentenced to three years in prison. She continued to direct her party from abroad, being re-affirmed as PPP leader in 2002.
She returned to Pakistan on October 18, 2007, after President Musharraf granted her amnesty on all corruption charges, opening the way for her return and a possible power-sharing agreement.
Suicide attack
Bhutto's homecoming rally after eight years in exile was hit by a suicide attack, killing 136 people. She only survived after ducking down at the moment of impact behind her armored vehicle.
Assassination 
Bhutto was killed when an assassin fired shots and then blew himself up after an election campaign rally in Rawalpindi on December 27, 2007.
The attack also killed 28 others and wounded at least another 100. The attacker struck just minutes after Bhutto addressed a rally of thousands of supporters in the garrison city of Rawalpindi, 8 miles south of Islamabad.
She died after hitting her head on part of her vehicle's sunroof — not as a result of bullets or shrapnel, a spokesman for Pakistan's Interior Ministry said.
Achievements as Prime Minister
Shaheed Mohtarma Benazir Bhutto represented Pakistan that was beautiful and with immense potential for development and success. She got countless achievements for the prosperity of the country some are here:
Restoration of 1973 Constitution in its original form, transfer of power to the Parliament, provincial autonomy, the NFC Award, identity to the people of Khyber-Pakhtunkhwa and Gilgit-Baltistan, representation for women and minorities among other marginalized and weak segments at every forum.
In addition to, programs for poverty alleviation, projects for development and welfare of people, and elimination of extremism and terrorism, and different other steps are in fact, the result of the life-long struggle of Shaheed Benazir Bhutto.
67th Birthday Celebration 
The 67th birth anniversary of the former prime minister and Pakistan People's Party (PPP) chairperson, Benazir Bhutto, is being observed with simplicity across the country today (Sunday).
However, on the directions of PPP Chairman Bilawal Bhutto Zardari, no political gathering would be organized on the day.
The decision of not holding any political gathering had been taken due to the COVID-19 epidemic, while all party leaders and workers would cut the cake of the birthday of Benazir Bhutto at their homes.