Azadi March: Chaudhry brothers hold meeting with JUI-F Chief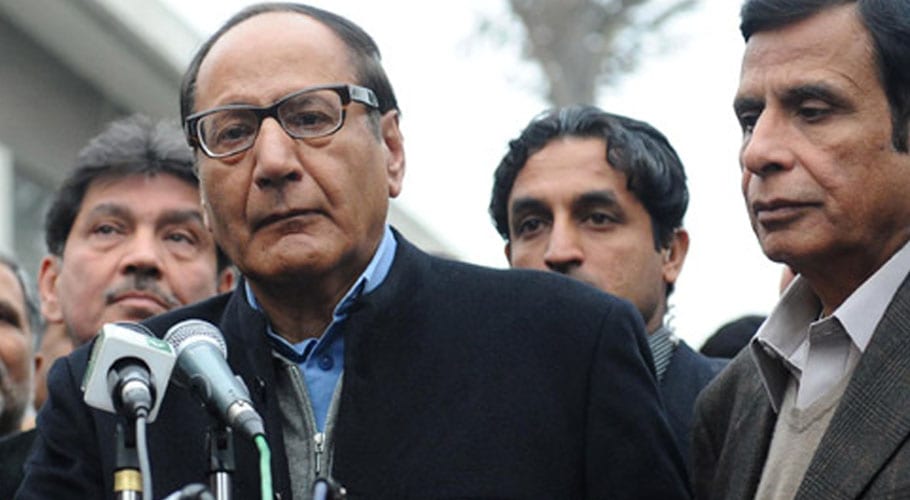 ISLAMABAD: Pakistan Muslim League-Quaid (PML-Q) leaders Chaudhry Shujaat Hussain and Chaudhry Pervaiz Elahi held an important meeting with JUI-F chief Fazlur Rehman Jamiat Ulema-e-Islam-F (JUI-F) chief Maulana Fazlur Rehman over Azadi March.
The Chaudhry brothers arrive in Islamabad via a chartered plane and met the JUI-F chief at his residence.
Also read: Enter Islamabad in constitutional limits, warns Firdous Awan
During the press conference, Chaudhry Pervaiz Elahi said that they came here for reconciliation and to defuse the political tension in the country.
He hoped that the issue of Azadi March would be resolved peacefully. Responding to a question asked by a reporter, he said that they would hold a meeting with Prime Minister Imran Khan at his office today.
Also read: PM to address NA on Nov 7 in connection with Azadi March
JUI-F leader Akram Durrani said that they would try to keep the atmosphere pleasant.
On the occasion, Pervaiz Elahi said that the pleasant political atmosphere would help resolve problems and added that they were trying to find ways to resolve the issues.
Earlier on Monday, the JUI-F chief would call off its anti-government march in a day or two as talks with the government's negotiation team had reached the final stage.
Also read: Zartaj Gul slams opposition parties and their ideology