All you need to know about COVID-19 vaccination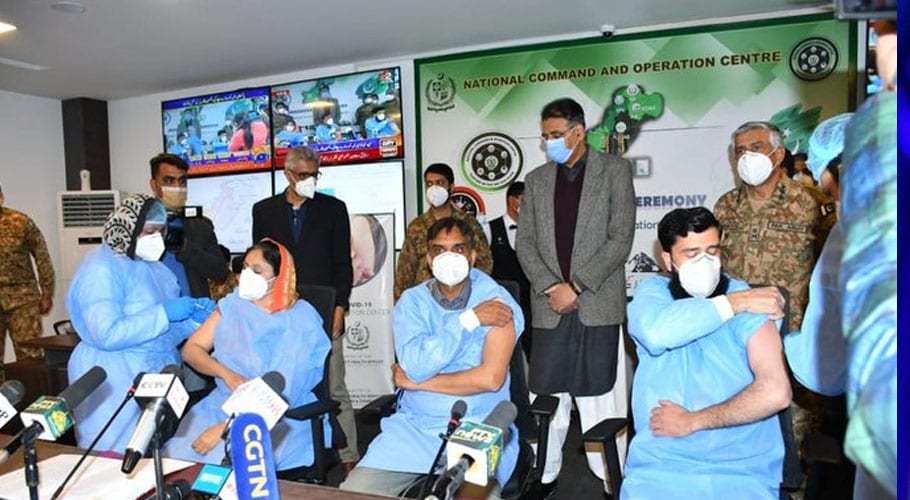 The National Command and Operation Centre (NCOC) announced that senior citizens aged above 65 years will be able to avail walk-in vaccination facility from today (April 3).
Taking to Twitter, the NCOC said people can visit any vaccination centre from April 3 (today) with their CNIC to get themselves vaccinated against the coronavirus after on-spot registration.
The coronavirus pandemic continues to grow with third wave reported in many countries. Vaccines are, however, also being rolled out in many places. In order to get vaccinated against coronavirus, it is important to know some facts about vaccination process.
Pakistan vaccination process
Pakistan kicked off its vaccination drive in early February with Professor Rana Imran Sikander becoming the first doctor to be vaccinated against the disease at the Prime Minister Office in the presence of Prime Minister Imran Khan.
The first batch of vaccines, brought to Pakistan via a Pakistan Air Force aircraft on February 1, had contained 0.5m doses of Sinopharm vaccine gifted by China.
Special Assistant to Prime Minister on National Health Services Dr Faisal Sultan, 0.8 million doses of the Covid-19 vaccine had been administered in Pakistan and the campaign would be further sped up. He mentioned that registration for people above 50 had been opened while the inoculation campaign for people above 60 was ongoing.
Authorized vaccines in Pakistan and procurement
The Drug Regulatory Authority of Pakistan (DRAP) has so far authorized four vaccines — Sinophram (China), Oxford-AstraZeneca (UK), Sputnik-V (Russia) and Cansino Bio (China). Pakistan is also facing issues accessing vaccines. Unlike India, we have not paid attention to local vaccine production.
There are three possible sources of COVID-19 vaccines for Pakistan. Firstly, donations from friendly countries such as China that has donated over one million doses of SinoPharm.
Secondly, there are donations from Covax, an international platform established in Geneva to procure and supply vaccines globally. The country will soon get 17 million doses of AstraZeneca in the coming months under the global scheme.  
While the first tranche was supposed to reach Pakistan in the first week of March, due to repeated delays, it is not yet clear when we will receive these vaccines. Once received, these vaccines will hardly help Pakistan vaccinate all people of the high-risk groups.
The third source is buying vaccines directly from manufacturers. In this connection, reportedly, 60,000 doses of Convidecia are expected to reach Pakistan from CanSino, China. Pakistan was one of the trial sites for this vaccine but did not insist for a right to access these vaccines once they were produced and approved.
The Myths
In a country where misinformation has resulted in even front-line workers expressing undue fears over getting themselves inoculated, the unwillingness of the public to get vaccinated must not come as a surprise.
The most common myths rife on social media regarding the Covid-19 vaccination are that it can make people impotent, change their sexuality and that it comes with a chip that could trace people, among others.
Let's Rubbish all these myths. No chip could be inserted into the human body through a liquid form of vaccine. As for impotency, these vaccinations were being administered all over the world. Why would Americans, British and Chinese administer their population with a vaccine which can potentially make them impotent?
Don't wait
Vaccination will be most beneficial if more people are inoculated in less time as that is how life can return to normalcy. People need to understand that the efficacy of different Covid-19 vaccines cannot be compared.
In the government-to-government trade and the vaccination handed over directly by the World Health Organisation to the government, there was no third party involved and it made the vaccines very safe.
How to get the coronavirus vaccine in Pakistan
Pakistan is currently vaccinating frontline health care workers and senior citizens using doses of the Sinopharm vaccine donated by China. Here's how you can get the vaccine:
1. You will have to send your CNIC number to the Sehat Tahaffuz helpline 1166 through SMS or the NIMS website nims.nadra.gov.pk
2. The system will verify your address and confirm registration and you will be sent details of your designated AVC along with a unique PIN code.
3. After confirmation and registration, you will have to take your original CNIC and PIN code to the centre on the appointed day
4. After verification, you will receive the COVID-19 vaccine. The staff will enter your details in NIMS and a confirmation message will be sent to you through SMS
5. You will have to remain at the AVC for 30 minutes for post-inoculation monitoring for any adverse effects