22 die in Murree as Pakistan Army deployed to rescue tourists amid heavy snowfall
MURREE: The federal government on Saturday deployed personnel of the Pakistan Army and other civil-armed forces for rescue operations after at least 22 tourists froze to death in cars stranded due to heavy snowfall in the area. 
All the routes in Murree were blocked for traffic after thousands of vehicles entered the city at a time when "unprecedented snowfall" took place, according to local administration.
The development was confirmed by Interior Minister Sheikh Rashid in a video message. "The crisis unfolded as Murree witnessed a huge number of tourists after 15-20 years," the federal minister added.
Rasheed said the government was forced to close the road from Islamabad to Murree. "Islamabad and Rawalpindi's commissioners, deputy commissioners, and police are carrying out rescue operations," he added.
The interior minister said five platoons of the Pakistan Army have been called in for rescue efforts, while Rangers and Frontier Corps will be deployed on an emergency basis.
"At least 1,000 vehicles have been stuck since last night some have been evacuated; 16-19 deaths took place in cars. The locals provided food and blankets to the stranded people," he added.
"We have also decided to ban tourists who are planning on coming to Murree on foot; this is not the time to come to Murree," Rasheed concluded.
ISPR statement
In a statement issued by the Inter-Services Public Relations (ISPR), the Pakistan army said a Control Division has been established at Murree Division. In order to facilitate stranded tourists, rescue centres have been established at Army Public School and Army School of Logistics in Kuldana.
Food and other essentials, including heating, were being provided to the tourists. ISPR said the Frontier Works Organisation (FWO) and Pakistan Army engineers were working round the clock to assist people, adding that heavy machinery has been deployed to clear roads.
"Where machinery can't reach, troops have been moved and they are clearing traffic and opening roads," it added.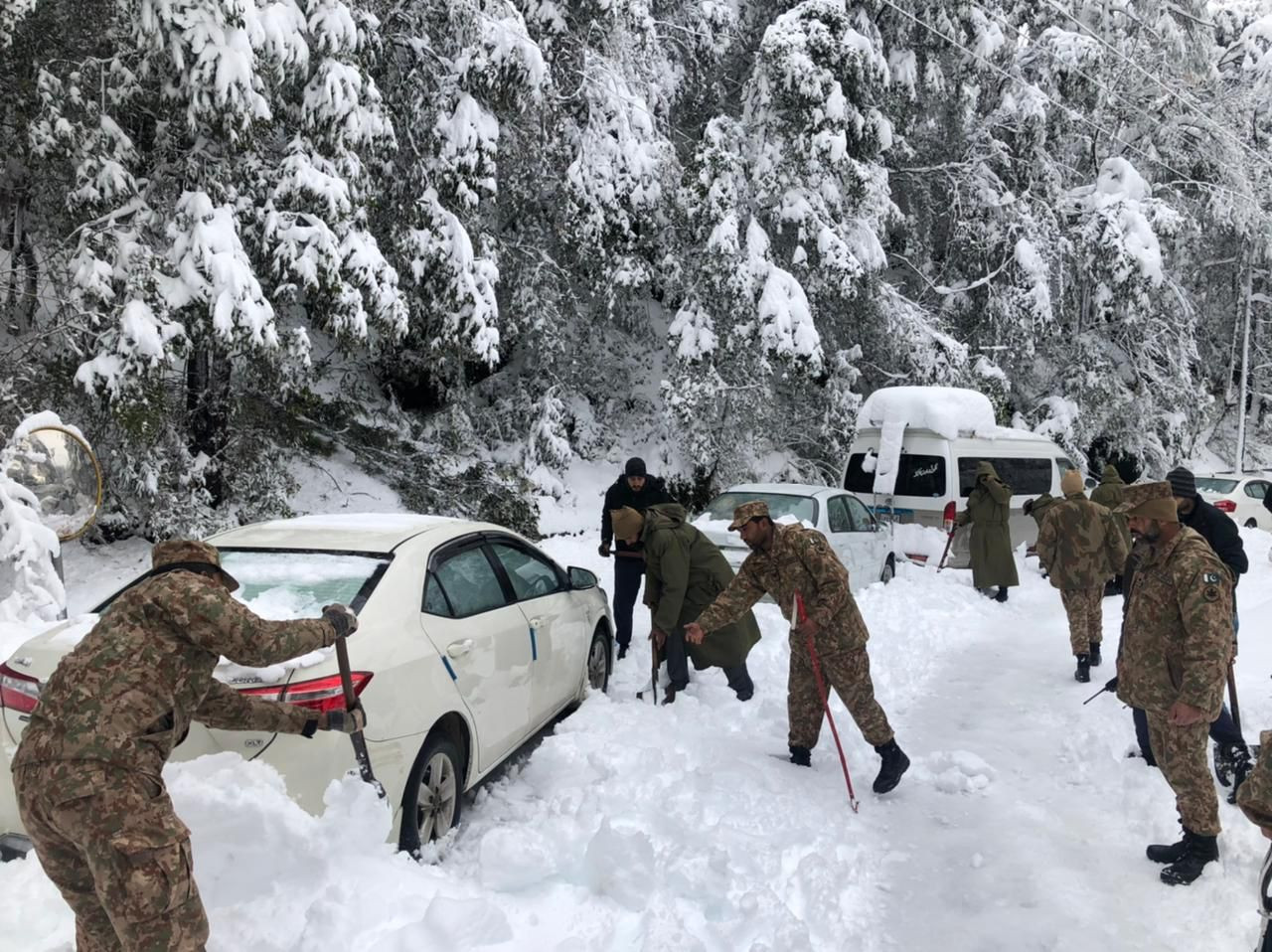 Punjab declares Murree calamity-hit area
Meanwhile, the Punjab government has declared Murree as a calamity-hit area after heavy snowfall wreaked havoc in the city. Taking notice of the chaos and emergency situation, Punjab Chief Minister Usman Buzdar has directed to open the government's offices and rest houses for the stranded tourists.
وزیراعلیٰ پنجاب نے مری میں ایمرجنسی نافذ کر دی

پولیس، انتظامیہ، ریسکیو 1122 اور ہسپتالوں میں ہنگامی حالت کا نفاذ کیا گیا ہے

ریسکیو کےلیے فوج اور رینجرز کےدستے بھی طلب کر لیےگئے

چیف سیکرٹری، IG پولیس، ریلیف کمشنر، DG ریسکیو اور PDMA کو ریسکیو سرگرمیوں کی خود مانیٹرنگ کی ہدایت

— Government of Punjab (@GovtofPunjabPK) January 8, 2022
The chief minister directed to provide every possible relief to the tourists and accelerate the ongoing rescue operation to evacuate the people from the hill station.
He ordered to move additional resources from Rawalpindi and other cities to Murree to speed up the relief operation. CM Buzdar also directed to send his official helicopter to Murree for the rescue mission.